Never have there been so many choices in the field of international Higher Education than at present. One is faced with questions of affordability and language, both of which can be tackled with guidance in the right direction. To my mind, USA provides the best all round education I can think of. Buckminster Fuller, one of the best known academic personalities of this time said that in his study of many scientists he found most of them had their first Degrees from a Liberal Arts College. "The Liberal Education offered by the Americans is truly a gift to mankind." A Sri Lankan Professor when speaking in the USA last year at one of the better known Liberal Arts colleges said pretty much the same thing namely that the American Universities offer the finest education in the many disciplines students choose today.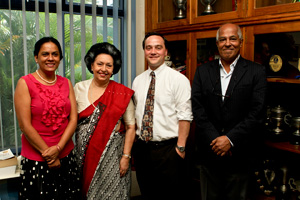 Flashback: Goolbai Gunasekara Principal Asian International School (AIS) welcoming Jonathan Weller Director International Admissions University of Cincinnati (www.uc.edu) accompanied by Priyanthi and Padmasena Dissanayake of Scholarships for USA (Pvt) Ltd (www.scholarshipsforusa.com) in May '10.
The generosity of the American world of Higher Education cannot be bettered. From Ivy League Universities down to the simple Community Colleges, offers of financial aid ranges from 100% downwards depending on the financial standing of the University. Hundred of Sri Lankans have benefitted by this generosity and continue to do so thanks to good advisors like Principals of International schools, alumni from USA and those who work closely with the Admissions offices of American Colleges like Mr. and Mrs. P Dissanayake of Scholarships for USA (PVT) LTD who have partnered Asian International School in many placements.
Unfortunately not all students have access to good advice and are taken in by the aggressive advertising and ambiguous promises of certain Institutions. This is such a pity when expert advice is forthcoming from those with access to Colleges and those with excellent track records of pairing students off with Colleges for which they are best suited. Parents must know WHERE to look. They must also know WHOM to ask.
Following friend's advice or copying what friends are doing results in reality hitting them too late. I personally direct pupils myself or advise them to consult Scholarships for USA (PVT) LTD whom I trust to do the best they can for the child I send to them. Very often excellent aid packages are available for those who know where to look. Of course an AL pass is a must from my point of view. These fast track affairs with only an OL qualification as an entry to a University Degree is a tragedy in my opinion resulting in an immature and half baked graduate..

The American University system is such that one can always transfer from College to College if grades are good. A student can start off at a Junior College or a Community College and by the system of transfers end up 6 or 7 years later with a Ph.D from Yale!
Parents need to trust the expert advisors. The Australian Universities recently published a list of five agents they deal with and can trust. Principals generally can advise those in their own schools where to go and where to look. Those who have failed to follow this expert advice have lived to regret it.
For instance, students should not ask for 100% aid straightaway. Especially if they can afford even a small percentage of the fees. Some aid packages are 'need based'. Others are based entirely on academics and all round achievement.
Outstanding pupils sometimes make elementary mistakes by failing to consult the advice of experienced principals and guidance counselors - they apply to all the Ivy League Colleges for full aid packages and end up with nothing as they foolishly imagine that excellent grades alone can guarantee admissions. Students must be diverse in their applications rather than only apply to Ivy Leagues and apply late to others when their first choices fail. One such brilliant student who made all the mistakes in the book had to fall back on a Community College. Luckily, he topped every class there and has now transferred to a fine College which will hone his talents to their full potential. But he could have made his journey shorter and more efficient if he consulted the expert advice available.
I wish that students of Sri Lanka who seek an education abroad will look for it carefully, consulting the right professionals and then use the opportunities available as wisely as they know how.