Coining the word "Eliminophobia" Vasika Udurawane of St. Thomas' College Mount Lavinia said he's got "Eliminophobia" at the beginning of the competition. Each week two contestants have been eliminated and it hasn't been easy to watch them bow out as each of them have turned out to be brilliant in their spelling. It is interesting to watch their individual feat's which are unique as each of them have their own technique when it comes to spelling.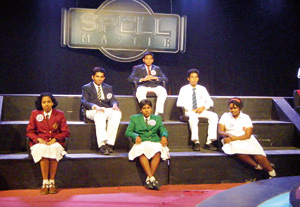 The competition took a different spin with the spellers been asked to entertain the audience further by displaying their talent. At first they were all reluctant but then got into it. Contestant number 2, Rochelle Silva of Holy Cross College Gampaha sang a gospel song "One day at a time". Following her Nimeshi Dissanayake of Sanghamitta Balika Vidyalaya Galle sang a hindi song.
The pop song "Breakaway" by Kelly Clarkson was sung by contestant number 6, Senuri Sahabandu of Sacred Heart Convent Galle. Breaking away from the norm Vasika Udurawane of St.Thomas' College performed a comedic act which left the audience in stitches of laughter. Kumeri Bandara of Girls High School Kandy warned everyone she'll break glass before she sung "Can you feel the love tonight?" from the motion picture The Lion King.
Archana Perera of St.Peter's College Colombo 4 and Nazhad Farook of Trinity College Kandy both sang songs as well. Piumi Wijesundara of Mahamaya Girls' College Kandy used Kumeri as bait and did a karate demonstration followed by the song "the lion sleeps tonight". The spellers were thrilled and so were the audience in this programme which is catching on extremely well as, sound Sunday evening entertainment.
Moving in the competition proper, in the first round, the eight competitors had to go through the "rapid fire" around. At the end of it, Nimeshi said she was very worried about it but got 14 out of the 15 words given correct. Nazhad alleged that he was "less flustered" in this rapid fire round and that's why he performed so well and got 14 words right too. Rochelle was the other contestant who spelled fourteen words spot on and said she "enjoys it" and was surprised by her result.
In the second round spellers had to provide a word of their choice to an opponent, and in the third round they were given the opportunity to select a word from a word from a selection of 5 categories, namely, Science, Culture, Nature, Business and General.
It was an anticlimax to the previous closing round of the competition. Consequently, the two contestants who spelled the least words right and leaving the competition this time around were Kumeri Bandara of Girls High School Kandy and Piumi Wijesundara of Mahamaya Girls' College Kandy. On her loss, Kumeri said the "rapid fire round undid her", and knows what her brother Sarith Bandara, who was last year's Spellmaster, went through. She continued to say "what's important is to be happy with the result and your own performance". Piumi was disappointed that the two Kandyan girls were stepping down, but was happy as Nazhad was still in the competition. She said she made new friends, her vocabulary has improved vastly, and most of all she's "not shy in front of the camera anymore", she continued to say that she received a lot of support from her father, friends and family, and "even a pat on the back is encouraging".
The competition is just a couple of weeks away from revealing the Spellmaster. Watch the action on Sirasa TV on Sunday from 6 pm - 7 pm to find out who will be eliminated next and witness the excitement as Spellmaster gets closer to revealing the Top 4 spellers who will battle it out in the Grand Finale.
The remaining 6 spellers in the competition are -
M.Rochelle U.Silva Holy Cross College Gampaha
Nimeshi Dissanayake Sanghamitta Balika Vidyalaya Galle
Senuri Chandula Sahabandu Sacred Heart Convent Galle
Vasika.Y.Udurawane St. Thomas College Mount Lavinia
J. Archana Perera St. Peter's College Colombo 4
M.N. Farook Trinity College Kandy