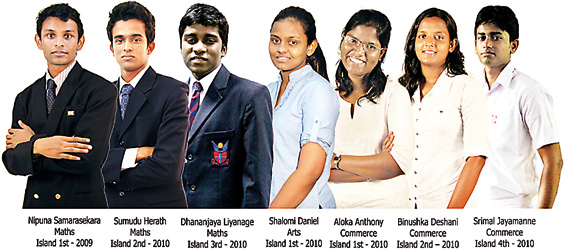 'With our vision to contribute directly to the corporate world, it is an incredible feeling to know thatAchievers is able to attract the students of the highest caliber at the A/L examinations. At Achievers, these outstanding individuals will certainly be able to enhance their professional careers as it gives us the opportunity to groom them, ensuring that they are equipped with those skills essential to fare in today's corporate environment'. - Mr. Faris Ismail, CEO/Managing Director Achievers Lanka Business School.
Last year this time alone around 200,000 students sat for the G.C.E. Advanced level examination. It is of course known that not everyone can achieve the distinguished position of becoming an island ranker, which requires a high level of competence, knowledge and hard work.
It is with great pride that we like to announce that most of these island rankers have chosen Achievers to follow CIMA and thereby to better enhance their professional careers. C. Aloka Anthony from Kuliyapitiya Central College, who secured the All Island 1st place (Commerce), Bineshka Deshanie of Devi BalikaVidyalaya, who was ranked 2nd (Commerce) and J.M. Shanaka Srimal Jayamanna from Kuliyapitiya Central College, was ranked 4th (commerce) at the G.C.E. A/Lexaminations in 2010 are such outstanding students who have picked Achievers to boost their professional careers.
Apart from the CommerceStream, there are several Island Rankers from other Streams who have joined Achievers as well. The most notable non-commerce island rankers in Achievers are Shalomi Daniel from ladies' College who secured the All Island1st Place in the Arts Stream, Sumudu Herath from Royal College who was ranked 2nd in the country in Maths stream and Dhanajaya Liyanage from Kings wood College who was ranked 3rd in the country in the Maths stream and he was also the only student of the CentralProvince to come within the first three in any stream. The enrollment of non- commerce island rankers at Achievers shows that they understand the value of the CIMA qualification and that it will be a value adding qualification to their professional careers along with the other degrees they follow such as Law, Engineering, Software Developing and IT.
It is not only the Head Prefects of most of the leading schools in Sri Lanka who set the trend by joining Achievers to follow CIMA but also many of the G.C.E. A/L Island Rankers from all streams of the previous years set a continuity trend by pursuing their higher education at Achievers, 'Where the Good becomes Great!'. One such distinguished Island Ranker in our student body is 21 year old Nipuna Samarasekara who secured the AllIsland 1st place (Maths) at the G.C.E. Advanced Level examinations in 2009. He is currently an undergraduate of the University of Moratuwa. He has proved his analytical skills by winning a Bronze Medal at the 51st International Mathematical Olympiad. He is also a National Level Athlete and he is currently following the Operational Level of CIMA.
Achievers strengthen a brilliant collection of talent and experience through their talented students and an eminent and ardent lecture panel. This only proves that Achievers attracts top quality students, with a scope for success. They provide the opportunity for all the individuals who have achieved an island rank to become All-rounders. They are groomed to be the future leaders of the business world and to reach the top of the corporate ladder.
These rankers are not only students who achieved or are well versed in education but also in extra-curricular activities. These students are best at karate, weight lifting, drama and even public speaking. Therefore, Achievers not only paves the way for them to achieve success in educational aspects but also gives them a chance to refineother skills in areas such as communication and leadership. These activities along with other such activities organized and conducted by the Toast Masters Club, Rotaract Club, Students' Council and the Sports activities give exposure for the students to participate in company visits and help them to be equipped in order face the corporate world.
Further, Achievers works with companies for recruitment of students for job opportunities after their completion of CIMA. They are currently hand in hand with recruitment partners such as MAS Holdings, Hayley's, Citi Bank, Standard Chartered Bank, Ceylon Tobacco Corporation, BhartiAirtel and Hemas Group of Companies.
MANY OF THE TOP ISLAND RANKERS AT THE G.C.E. ADVANCED LEVEL EXAMINATION OF DIFFERENT STREMS HAVE SHOWN THEIR CONFIDENCE IN ACHIEVERS BY ENROLLING THEMSELVES TO FOLLOW CIMA, ENCOURAGING MANY MORE OF THE CREAM OF THE STUDENT POPULATION IN OUR COUNTRY TO DO SO!
Our next intake for the regular batch is the 13th and 17th of September, whilst the FAST TRACK batch commences on the 14th of September. For inquiries about the regular batch, please contact Dinithi: 0773649417 / 0772092653, and for FAST TRACK, Thinakshi: 0774725952