Studying in New South Wales is not the first choice for many Sri Lankans. Udeshini and Nadeesha graduates from the University of Moratuwa and Nayoma graduate from University of Peradeniya in Engineering, talk about the University of Wollongong providing an insight into living, learning and research at a NSW University.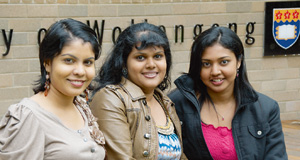 Udeshini is enrolled in a PhD in GeoEnvironmental Engineering, when asked about the Living environment in Wollongong "coming from a congested city in Sri Lanka, Wollongong is very relaxed and peaceful. All the infrastructure of any modern city is here, however without the crowds and pollution that make life stressful. The scenery here is spectacular, a beautiful beach, mountains and across the road from the Uni the botanical garden is a great place to relax. All these things combine to making intensive research studies easier".
Udeshini's PhD will develop a technique for remediation of contaminated ground water. When complete she would like to develop expertise in teaching Environmental engineering, making people aware of how good environmental practice can change their lives.
Nadeesha is enrolled in a Phd in Water Resource Engineering and talks about teaching at UOW. "Everything related to teaching here is wonderful, the staff really help the students. I completed my undergraduate in Sri Lanka, the teaching style here in Wollongong is open to natural enquiry. Tutorials are compulsory, so students engage with knowledgable staff outside of lectures.
I've been tutoring for 3 years, and won the University's OCTAL teaching award. I love it because I get to impart my knowledge and learn from students. The students can engage with knowledge outside of the syllabus, and this applied learning improves outcomes in the students results. My PhD will improve the analysis hydrodynamics of water resources to model more effective ways to assess the impact of water in Engineering". Nadeesha will pursue an academic career in Water Resource Engineering.
Nayoma is currently in her 3 year of PhD in Geotechnical Engineering. When asked about the facilities, Nayoma said "..from literature survey to document delivery, I get access to global research information for my research, the access to resources is wonderful. The University has a lot of large scale equipment in the laboratories and every piece of equipment is provided, this is well supported by a knowledgeable technical staff. The Faculty here attract large funding that allows the labs to have unique equipment not available at any other university. Once we are trained by the technical officer I have the freedom to run my own experiments on the equipment unsupervised. Accessing funds to facilitate my research was also very easy".
Nayoma has developed a mathematical model by which the rail industry can compare and predict contaminated vs clean ballast, saving money on maintenance, reducing the risk of derailment. After completing her PhD Nayoma plans to become an industry consultant. Udeshini will be in Sri Lanka at the Education Fair from September 8 - 13.