British Council's pre-departure events are held annually to help students prepare themselves for their study life in Britain. Last Sunday, the 16th annual pre-departure event was held at the Colombo Hilton for students who are gearing themselves to travel to the UK for study in 2011/12. Many students, parents and relatives attended this event and gained an insight into how to cope with the first year at university in the UK.
The event showcased a number of presentations and comic skits delivered by 14 undergraduates currently studying in the UK, who were visiting home for vacation. The presentation covered many useful tips such as methods of travelling, mobile telecommunication packages, as well as on-campus and off-campus living. Working in the UK was another useful topic discussed at the event, as most of the students plan to work part-time during their study period and full-time during university holidays.
Matt Ward from the UK Boarder Agency (UKBA) took students through the correct process of applying for a Tier 4 student visa. He drew the students' attention to key changes to the visa rules and the importance of using the current published Tier 4 guidance when making their applications.
Some other important pointers were also given to the students, including availability of personal tutors to help new students if they are falling behind, coping with different weather patterns such as damp and freezing winters and the health aspects that follow. Information regarding important vaccinations and reports that are necessary when travelling to the UK were also highlighted. Students were also briefed on how to gain work experience in the UK after they finish their studies via the Tier 2 route.
This year the highlight of the event was a panel discussion on Postgraduate studies in the UK and how a UK postgraduate qualification helps to further one's career. The panel comprised Mr Jayantha Fernando an attorney holding a specialised Master's Degree (LL.M) in IT & Communications Law from the University of London currently working as Programme Director/ Legal Advisor at ICTA, Ms Kanchana Ambagawita holding an MSc in Local Economic Development London School of Economics and currently working as an Economist at the Central Bank of Sri Lanka and Mrs Delrine Wijeratne holding an MSc in Commercial Law from Queen Mary, University of London and currently working as the Assistant Vice President - Head Home Loans at NDB Bank.
Commenting on the importance of these pre-departure events, Head of Education UK at British Council Sri Lanka, Mr. Fahim Shakoor said, "We have identified the feelings of anxiety and excitement that students feel before leaving to the UK and we understand that it is natural that their parents too share these mixed feelings. The purpose of our pre-departure events is primarily to familiarize both students and parents with university life in the UK, thereby helping students experience a smoother transition while leaving Sri Lanka to pursue their higher education in the UK."
In addition to the treasure ground of information and advice to parents and students that the event provided, there was also a British Lunch followed by a fun and informative networking session that all participants enjoyed. It consisted of games and quizzes that focused on UK life, travel, cities, and even pronunciations. There were even sessions allowing students to network with fellow undergraduates of the same universiti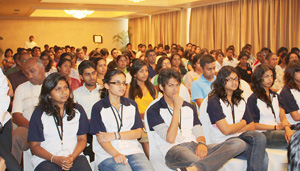 Students and parents attending the event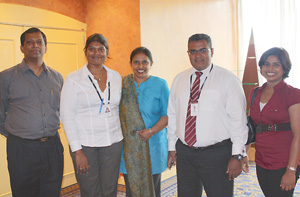 PANAl
British Council - News edt\Networking games - students getting to know each other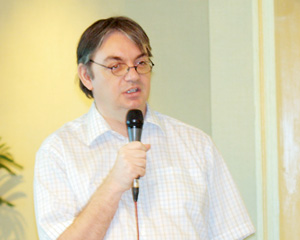 Matt Ward from the UKBA speaking to the students about the Visa application process to the UK
Keshan speakig to students on the documents required to be carried while travelling to the UK for the first time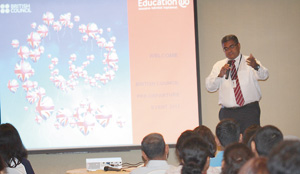 Fahim Shakoor - Manager EUK welcoming the participants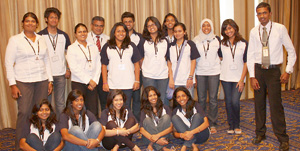 EUK staff and current students studying in the UK who helped organize the event