Piramal Glass Ceylon PLC (PGC), manufacturer of glass containers for all segments of glass packaging, announced record profits for the eighth consecutive quarter. CEO, Piramal Glass, Sanjay Tiwari, said "the company has commenced the year with a strong financial performance by achieving a Net Profit of Rs. 141 Million in the Q1 of the Financial Year 2012 as against a net profit of Rs. 53 Million during the corresponding period of the previous year, depicting a growthof 166%."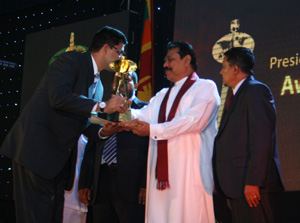 Seen here President Mahinda Rajapaksa, presenting the award to CEO Piramal Glass, Sanjay Tiwari.
According to a company press release, Mr Tiwari attributed the company's growth to the improvement in operational efficiency which led to Gross Profit Margins increasing from 26% in Q1 of Financial Year 2011 to 28% in Q1 of the Financial Year 2012.
"The sales growth of 27% has set a positive trend to this remarkable performance. The growth displayed in the Domestic market continues to look strong and has shown a 32% growth from Rs. 621 Million to Rs. 823 Million. In fact during the last 2 years the growth has been in excess of 30%", he said.
Export markets grew by 14% from Rs. 247 Million to Rs. 282 Million, as against the similar period of last year. This was attributed to the fact that exports were in a niche high end market, hence higher realisation.
"Another feather in PGC's cap was being the recipient of the Presidential Export Award for the value added mineral and mineral based products for 2009.The 19th Presidential Export Awards organised by the Export Development Board was held under the patronage of President Mahinda Rajapakse to honour exporters who played a significant role in the economic development of Sri Lanka through exports," the statement said.