HVA Farms, a part of the HVA Group will build 15 eco friendly lodges alongside its organic farming projects in Puttalam, officials said. "The eco-bungalows which will be on a 50 acre slot in the 500 acres of organic farmland will have reverse osmosis clay air conditioners while energy saving solar panelling for heating water and generating electricity," an official told the Business Times.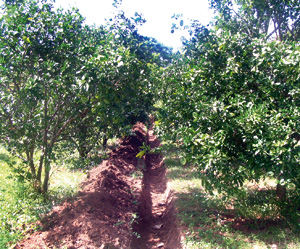 He said that the company is planning to grow fruits and vegetables for local and international markets under organic principals and that in the farm, they will set up s an indigenous plant nursery under the caption "Heritage Root Stock" to propagate indigenous trees of Sri Lanka. He added that research & development of techniques for pest control using information based on plant extracts and mechanical means without using chemicals and the deployment of renewable and sustainable energy through solar and wind will also be carried out.
"There will be employment for approximately 100 families in the first stage through direct employment and subsequently through an out grower system and by incorporating these lodges we want to create an environment friendly holiday resort deploying modern technologies for lighting," he explained. He said that their pilot plant in extent of 25 acres, which started in 1998 has experimented most of the above with positive results. "Through this pilot farm we gathered useful data in terms of rainfall, sunshine, animal behaviour, soil, logistics, etc," he added. The mature plantation of oranges, cashew and mango are in prime production stage and he said that the approval process has taken nearly 10 years due to interference by bureaucratic red tapes.
"In 2009 the supreme court of Sri Lanka issued a judgment in favor of HVA Farms initiate the 100 hectare organic farm. The location of the farm is near the Southern boarder of Willpattu nature reserve on the old Mannar road leaving clear boundary of one mile as per the statutory requirements," he added.