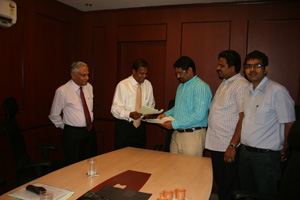 Aitken Spence will be opening up its sixth Indian hotel for the winter season. The four star hotel will have 45 rooms, a banquet hall, two restaurants, bar, swimming pool and spa and named "Grand Marina," Aitken Spence Hotels Managing Director Malin Hapugoda told the Business Times.
This city hotel is set to become the next South Indian hotel managed by the group, which is already managing hotels in Atithi in Puducherry, Poovar Island Resort, on the backwaters of Kerala, Barefoot at Havelock in the Andaman Islands and Tamara in Coimbatore.
Currently the firm is looking at two other hotels to be taken up for management in South India, Mr. Hapugoda said. In respect of the Grand Marina, Atiken Spence is nearing completion of its work on the hotel.
Aitken Spence, in addition, to having a chain of hotels in Sri Lanka and Maldives also manage hotels in India and Oman as well.