Technology researcher IDC has predicted that, by 2012, 85% of all new software introduced will be in the form of pay-per-use, also known as Software-as-a-Service or SaaS, which will be accessed via the cloud, with 14.5% of the worldwide software spend also said to be attributable to SaaS.
At the same time, many hotels are already experiencing information systems budget cuts.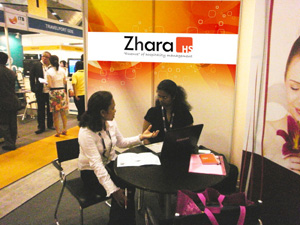 Picture shows potential clients visiting Zhara HS's stall at ITB Asia 2010.
This, according to John Keells Computer Services, is the reason why its Zhara Hospitality Suite, a hotel management-oriented SaaS offering, which is hosted in the cloud and so does not require purchase of servers or software, or even any other sort of "stand-alone capital expenditure," is said to have "captured the hospitality industry and become the choice of many hotel operators in the Asia Pacific region since its launch in 2010."
Further noted; "Prior to creating the Zhara HS system, JKCS designed software exclusively for leading global airlines and airports. The expertise gained in generating the highest yield-per-passenger in the aviation business was leveraged in the creation of the Zhara Hospitality Suite.
The SaaS model, on which Zhara HS is built, is a distinctive development in the field of IT. It is a model of software deployment, where the application is provided as a service to customers across the internet with no installation or maintenance hassle for a hotel operation. It also provides advantages such as rapid deployment, no capital outlay and, most importantly, it provides access to comprehensive security systems, which consist of back up, disaster recovery and support services." (JH)