The inaugural HSBC Youth Enterprise Awards (YEA) 2011 presented by the British Council was held at the Cinnamon Lakeside recently, in the presence of the Minister for Higher Education, S.B Dissanayake, Nick Nicolaou, Chief Executive Officer of HSBC Sri Lanka and Maldives, Tony Reilly Country Director British Council, University Vice Chancellors and other distinguished guests, the bank said.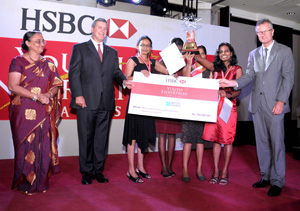 HSBC awards gives impetus to young entrepreneurs
Awards were presented to winners and runners-up under sfive main categories: Creative Industries, Information and Communication Technology, Engineering, Agriculture, Renewable Energy and Sustainable Industries. Each category winner was funded with seed capital worth 100,000 to help them establish their own enterprises. In addition, they will go through mentoring sessions by established entrepreneurs for a period of six months to guide them further in establishing their own businesses, the bank said.
The HSBC YEA 2011 is a business plan contest that was introduced in April this year with the aim of recognising young aspiring entrepreneurs and supporting them to start and grow their businesses. The competition was open to postgraduates, undergraduates and students aged 18 to 30 years representing universities, private higher education institutions, technical and vocational institutions and professional training bodies in Sri Lanka.
Speaking at the awards ceremony, Mr. Nicolaou, said, "Being the world's local bank, and present in over 80 other countries, we are driven by creative ideas that help shape business enterprises and its landscape. As we witness the first ever HSBC Youth Enterprise Awards 2011 presented by British Council, we are confident that this programme will encourage creativity and innovation amongst young people and promote entrepreneurship that is a much needed business skill, as we move forward in the country's economic development."
Addressing the contestants,Mr. Reilly, said, "Today we are not celebrating a culmination, but a new beginning. This awards ceremony is all about encouraging you to embark on a difficult journey that would one day reward you tremendously. Entrepreneurs are not mere money makers. They are the ones who discover new things and find better ways of doing things. They make money for themselves and also help many more to earn a living. They make countries richer and societies better.
They leave legacies behind so that future generations would be inspired to do greater things. Each and every one of you has the potential to be a successful entrepreneur." Whilst over 95 business plans were received for evaluation by an eminent panel of judges, 26 of them made it to the selection rounds. The competition resulted in six winners and four runners-up being awarded.