Selling of consumer items by using Mobile commercial Dimo Batta Truck service is picking up rapidly as it has become popular among people in cities. This programme will embrace the whole country soon, said chairman Bank of Ceylon (BOC) Gamini WIckremasinhe in an interview with Business Times. Nearly 500 vehicles were distributed among the pavement traders who have no way to engage in business after removing illegal constructions in main cities, he added.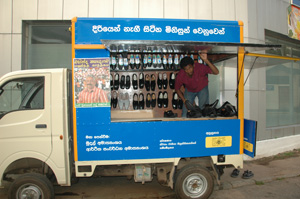 The installment to be paid for the first month is Rs. 14,971. Thereafter it is Rs. 22,135 for each of the balance 54 months. All payments will be completed in five years. Accordingly, payment per day is between Rs. 500 and Rs.750. Very soon over a 1,000 former pavement hawkers in a number of districts including Kandy, Galle, Anuradhapura and Hambantota will benefit from Dimo Battas.
The vehicles given under the programme serve as mobile units for collecting and distributing milk , mobile barber saloons and textile sales outlets, vegetables, fancy goods, ornamental items, books, tea, fish, milk and kola kenda outlets.
The programme was initiated under the Divi Neguma livelihood development programme launched by the Economic Development Ministry. Mr. Wickremasinghe said that these vehicles were leased out to pavement traders and they are paying their installment for the lease daily without any default. This shows that Dimo Batta mobile trade service is running at a profit. He noted that this service has been initiated to upgrade the living standards of the people and make the cities clean and tidy. He said the prime objective of the project is to benefit all segments of the society including both pedestrians and pavement vendors. The Bank of Ceylon is the main sponsor of the project.
Economic Development and Finance Ministry, Self Employment Federation, People's Bank and DIMO Company are the other co-partners. The project is being implemented as a joint venture of several ministries. The People's Bank and the Bank of Ceylon provide loans for self-employed persons to purchase delivery vans. The Diesel and Motor Engineering Company is supplying Dimo Batta delivery pickups at a discounted price.
The Self Employees' Association coordinates the project. Dimo Batta trucks will give self employed persons the opportunity to run mobile sales outlets where essential consumer products will be sold to the public at reasonable prices.
These vehicles have been given to self-employment entrepreneurs without any collateral as a joint service by the Bank of Ceylon and the People's Bank. The number of pavement hawkers in Sri Lanka is nearly 25,000 out of which around 3,000 are in the Pettah. However, according to police and municipal reports this number is 6,000. The formation of the Self-Employed Entrepreneurs Association in 2006 strengthened their position. Its president, Mahinda Kahandagamage too has been a pavement hawker for 35 years.