For the third consecutive occasion Haren Fernando, a teacher by profession attached to a higher education institute in Colombo, emerged the highest ranked quiz player from Sri Lanka with Dilantha Gunawardena, taking part for the first time, being ranked second.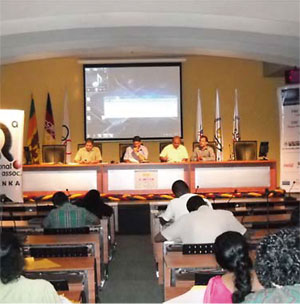 WQC 2011 in progress
Third placed this year was Lathikka Niriealla, - the runner up of last year, while Pulasthi Rupasinha and Hasini Minuwanpitiya were placed fourth and fifth respectively. Thus Hasini Minuwanpitiya - an Advanced Level student from Musaeus College emerged as the highest ranked female Quiz player in Sri Lanka this year.
The World Quizzing Championships, held for the ninth consecutive year, is an individual Quiz competition, conducted by the International Quizzing Association (IQA), the world's premier Quiz organization. The quiz consists of 240 questions, to be answered in a maximum allowed time of 120 minutes. Questions are divided over 8 categories of 30 questions each. The eight categories broadly cover areas of History, Media, World, Lifestyle, Entertainment, Culture, Sports, and Sciences.
A record 1400 battled it out for world rankings this year, the highest ever number of participants so far at the world quizzing contest, held simultaneously at 79 venues all over the globe.
The Sri Lankan edition of the World Quizzing Championships was held on Saturday - 4th June at the Olympic House auditorium at Independence Avenue Colombo 7 with Ruwan Senanayake, the Country representative of International Quizzing Association conducting it with the support of a team of officials from the Management Club.
The Management Club for the second consecutive occasion joined IQA in supporting its endeavour of providing the local quizzers the opportunity of battling it out with the world's best in the quiz arena.
The first five ranked Quiz players from Sri Lanka were awarded book vouchers with the compliments of TMC while the top 3 quizzers received cash awards from IQA, Sri Lanka
Pat Gibson of England who ended with a remarkable 10 points lead ahead of his nearest rivals Tero Kalliolevo from Finland and fellow countryman Kevin Ashman emerged the overall winner of the World Quizzing Championships for a second consecutive year.
Pat's overall total was 186, and he missed out on only one point in the Culture paper.
In the Country rankings, - based on the top 3 performers from each country, U.K was ranked first, followed by Belgium, USA, Norway and Finland while Sri Lanka was placed 26th in IQA rankings for 2011.