With only eight more seats left to the Top 20 of the all island schools spelling competition CIMA Spellmaster, contestants at this week's competition were full of apprehension. Twelve relieved and lucky contestants have secured a place to the finals already, leaving the remaining 100 contestants that were left to participate in suspense.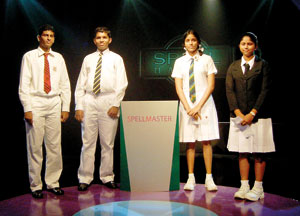 The longest competition thus far in the series of semi finals, the competition last weekend carried on for six rounds. With only one contestant qualifying at a time and the final two contestants being neck-to-neck, the competition was that of a nail biting one. Archana Perera of St.Peter's College and Solomon Rajaram Hariharan of St. John's College Jaffna, who were part of last year's Top 100, were among the fifty contestants that took part in the fourth semi final.
Twelve contestants spelled both words in the first round consisting of five categories (Science, Nature, Culture, Business and General) correctly, where each was given a choice of two words. Contestants dropped out drastically in the second round and of the twelve that got through, seven didn't qualify to the next round, missing out on words like "Fracas", "Kiondo" and "Cynosure".
J.Aaraby of St.Mary's College Trincomalee was the only competitor who got the word given to her, "Kraal", right, and secured herself the 1st place of the 4 places available in this instalment of the semis. The 4th round had Archana Perera of St.Peter's College Colombo 4 obtaining the second seat, followed by S.Kumeri Bandara of Girls' High School Kandy who acquired 3rd place in the fifth round of spelling.
Two more contestants were remaining, with one seat up for grabs, the competition was close. It was Solomon Hariharan of St. John's College Jaffna and M.Viduri Sulakkhana of Samudradevi Balika Vidyalaya Nugegoda going up against each other. Solomon received the word "Gravlax" and spelled it spot on, Viduri who was given a slightly lengthy word "Knickerbockers", sadly misspelled it, giving a very jubilant Solomon the opportunity to compete at the finals of Top 20. On his victory, Solomon said, "I'm glad right now but was nervous earlier. I got to know a lot of new words by taking part in this competition."
The final segment of the semi finals will be telecast this Sunday at 6 pm on Sirasa TV, while only 4 more places remain to complete the Top 20. So don't miss out on this thrilling episode.
The following are the names and respective schools of the contestants
who have qualified to the Top 20 thus far
Taryana Odayar Stafford International School Colombo
M. Rochelle U. Silva Holy Cross College Gampaha
M.N. Farook Trinity College Kandy
Sandani Vithanage Devi Balika Vidyalaya Colombo
M.M.S. Perera Ave Maria Convent Negombo
Mulaika Mafaz Sacred Heart Convent Galle
Nilakshi Prasadika
Gunathilake Vishaka Balika Madhya Maha Vidyalaya Bandarawela
S.Aarabi Holy Family Convent Jaffna
Eksith Weerasekera Royal College Colombo 7
Piumi.S.Wijesundara Mahamaya Girls' College Kandy
Vasika.Y.Udurawane St. Thomas' College Mount Lavinia
Senuri Chandula
Sahabandu Sacred Heart Convent Galle
J.Archana Perera St. Peter's College Colombo 4
S.Kumeri Bandara Girls' High School Kandy
J.Aaraby St. Mary's College Trincomalee
Solomon Rajaram
Hariharan St. John's College Jaffna