What would your child want to be when he grows up? A doctor, engineer, lawyer, scientist, author, actor etc… Whoever it maybe, education is the foundation for success in any career they choose to pursue. Education lays the foundation on which they would build their future careers. Knowledge arms children with insight to look at their lives and learn from every experience. Providing a paramount education for your children is the finest investment a parent can make. The Overseas School of Colombo in Pelawatte, Battaramulla provides these fundamentals to cultivate your children into mature individuals; individuals capable of planning their futures and taking the right decisions.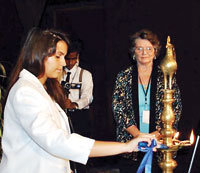 Established in 1957 as a non-profit organisation under Sri Lankan law, The Overseas School of Colombo (OSC) carries the prestige of being the oldest internationally accredited educational institution in Sri Lanka. OSC is a multinational English medium international school catering to the needs of the internationally mobile expatriate community and Sri Lankan students. It is proud to be the only IB World School in Sri Lanka offering the International Baccalaureate (IB) Programme from Pre-school to Grade 12. OSC is fully accredited by the Council of International Schools, UK (CIS) and Middle State Association of Colleges and Schools (MSA). OSC is a member of South Asia Inter-School Association (SAISA) and Near East South Asia Council of Overseas Schools (NESA).
The International Baccalaureate (IB), established in 1968 in Switzerland by a group of international educators, aims to develop inquiring, knowledgeable and caring young people who help to create a better and more peaceful world through intercultural understanding and respect. The IB organisation - a non-profit educational foundation - works with schools, governments and international organisations to develop challenging programmes of international education and rigorous assessment. These programmes encourage students across the world to become active, compassionate and lifelong learners who understand that other people, with their differences, can also be right. The IB Programme helps to develop the intellectual, personal, emotional and social skills to live, learn and work in a rapidly globalising world.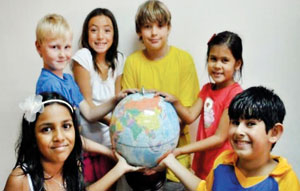 Other features of the programmes:
IB programmes are recognised around the world and ensure an increased adaptability and mobility for IB students.
The curriculum and pedagogy of IB programmes focus on international perspectives of learning and teaching, while insisting that students fully explore their home culture and language.
IB World Schools must undergo an exhaustive authorisation process in order to offer one or more of the programmes, which includes a study of the school's resources and commitment to the IB mission and philosophy.
IB teachers participate in a wide variety of professional development opportunities to constantly update their knowledge and share their expertise with colleagues around the world.
Many students graduating from the Diploma Programme find that it enhances their opportunities at tertiary institutions. The IB works closely with universities around the world to gain recognition for IB programmes.
The core components of IB programmes encourage students to participate in creative and service-oriented activities, while at the same time emphasising the importance of reflection on a personal and academic level.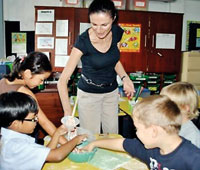 Part of being an all rounded student is not only to excel in academics but also in arts, sports and community service. The South Asian Inter-Scholastic Association (better known as SAISA) brings together 10 top international schools from across the region to compete against one another in sports, music, drama and other non-core curricular activities. OSC is the only school in Sri Lanka to be a part of the SAISA. Community service programmes have been an imperative part of the school curriculum for all OSC students (Pre School to Grade 12). The various community service projects enable the students to become more aware of society and give back to the country they live in.
OSC provides an educational setting focused on developing each student to achieve his/her full potential. That degree of personal excellence can only come with highly qualified teachers committed to the needs of all students on a campus which balances nature with state-of-the-art technology, facilities and resources. OSC is a culturally diverse community with students, parents and staff working in harmony.
"OSC develops the whole person as a responsible learner striving for personal excellence within a culturally diverse school"
For more information visit www.osc.lk or email admin@osc.lk