Since 2006, SLIIT and SHU have been in partnership to offer students more focused and industry-specific academic programmes. The Sri Lanka Institute of Information Technology (SLIIT), together with prestigious UK University Sheffield Hallam University (SHU), aim to gear students with academic opportunities advantageous to their personal and professional growth.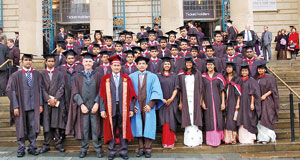 As the pioneering institute to produce the highest number of Sri Lankan undergraduates at SHU to date, SLIIT focuses on providing many academic pathways for students to get the best out of their chosen field of study. SHU has been recognised as a top choice for Sri Lankan students studying in Britain and has the largest total number of Sri Lankan students of any university outside of London, according to a study conducted by the Higher Education Statistics Agency (HESA).
The partnership between the two institutions allows suitably qualified SLIIT undergraduates to follow SHU's summer top-up programme, where students have the chance to top up their area of study to the honours degree programmes offered by the university in the spheres of Information Technology, Business Management and Electronic Engineering. SHU Degree programmes are also offered at SLIIT through this partnership in the following streams; Bachelor of Business Administration (BBA) in Business Management, Msc. Enterprise Applications Development, and BSc. (Eng) in Electronic Engineering thereby allowing students the opportunity to complete the entire degree in Sri Lanka and gain a world-class UK degree. Successful students will progress to Master's courses at the University, where job placement programmes also play a key role in aiding students to carve out a niche for themselves within their chosen field of interest.
"At SLIIT, we strive to make these valuable opportunities possible through our collaborations with many acclaimed foreign universities, which have stood the test of time. Our aim is to broaden the scope for education and ensure that only the very best standards are maintained and services offered" states Professor S. Karunaratne, Chancellor and Chairman of SLIIT.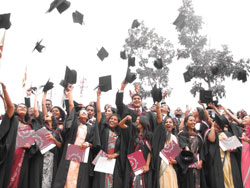 President and CEO of SLIIT - Professor Lalith Gamage states that "SHU provides students a host of facilities at affordable costs and is located within a vibrant and friendly city. The advantage with this collaboration is that students who graduate from SHU are permitted to seek employment and secure work permits in the UK for a specified period of time. They will therefore greatly benefit with this prestigious university's career-oriented courses and be able to secure good jobs upon graduation".
"We are very impressed with the performance of SLIIT students at SHU" states Robert Harris – Head of International Development, Faculty of Arts, Computing, Engineering and Sciences - Sheffield Hallam University, UK. "The whole aspect of learning within a new academic environment, combined with affordable rates and concessions for Master's degree programmes and work permits upon graduation provide students an overall enriching, life changing experience".
As the foremost tertiary institution in Sri Lanka to possess strong global links with many high-ranking universities, SLIIT continues to strive towards the evolving bar of educational excellence to gear students for the challenges within the industry.