Joseph Vaz College, Wennappuwa, a boys Roman Catholic national school has made its presence felt in local sports. The school was established in 1935 by the Marist Brothers with 29 students and four teachers. But today Joseph Vaz has grown in strength in all aspects and continues to dominate as a leading educational institute in Sri Lanka.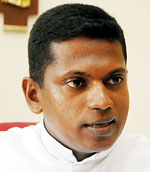 Rev. Fr. Priyanjaya Gunaratne (Principal)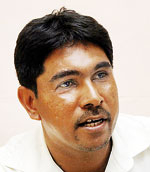 Gemunu Fernando (POG)
The college at present shelters over 3800 students who are equally eager in academic and extra curricular activities which gives Joseph Vaz its prominence. The strong staff of 156 teachers headed by Rev. Fr. Priyanjana Gunaratne as principal makes sure each student carries forward the tradition that has existed for the past 77 years.
Joseph Vaz, situated on a five acre land in Wennappuwa. At the beginning the school was directly funded by the Marist Brothers and well wishers. From time to time the school acquired its property through various resources and through contributors who wished to see Joseph Vaz being on its own.
"Joseph Vaz is in good shape to provide the students with required facilities thanks to the efforts of authorities who served from time to time and of course the generous contributions of well wishers. At present Joseph Vaz has help coming from the Old Boys' Union and the School Development Society," said Rev. Fr. Gunaratne who is also a past student of Joseph Vaz.
In 1960 the school was taken over by the Government and directed its administration to the Ministry of Education. The gradual development experienced before the take over came to a brief halt but the school continued to progress in the aspects of education and extra curricular activities. "Comparatively, today the school has two sections (primary and senior) where the total number of students is over 3800. We have classes from grade one to thirteen and in the higher education section facilities are available for students to obtain their lessons in Sinhala and English, in all four streams. These features have contributed towards the academic success of Joseph Vaz," added Rev. Fr. Gunaratne.
A student at Joseph Vaz has so many activities in extra and co-curricular to engage in apart from the regular academic routine. Nearly 1000 students are occupied in 12 clubs or society activities. Then there are ten sports available at school as well. However according to the principal most students prefer to stay away from sports as they are not encouraged by their parents.
According to the authorities another fact keeping students away from the sports field is that most people living in the area have some sort of connection in Italy, either they have relations living in Italy and the Italian culture in Wennappuwa is keeping students away from sports
"Joseph Vaz has students from all walks of life. There are the rich and the not so rich. There are the poor and those who are very poor. Nothing is balanced but at Joseph Vaz we make sure they all are treated equally and given the same treatment regardless of their social status".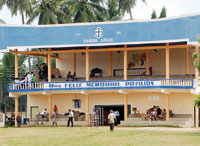 Among the available sports activities at Joseph Vaz are cricket, football, volleyball, hockey, badminton, boxing, karate, athletics, chess and carrom where over 500 students are involved. Joseph Vaz has the possibility of providing necessary facilities to their sportsmen but there is a dearth of those who are interested.
"We are not a sports school but with the handful of talents our sportsmen are capable of matching or even doing better than our opponents. We have strong and energetic groups attached to the OBA who have taken over some sports financially. But what pulls the school back despite these backing is the lack of interest among students," Rev. Fr. Gunaratne said sadly.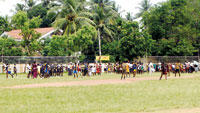 Despite these setbacks which the authorities consider minor, Joseph Vaz has maintained a healthy dominance in the schools sports. Most of their sports teams figure in the top division. The prefect-of-games, Gemunu Fernando, who is a past pupil and a former skipper of the volleyball team for five consecutive years, gave details about the present situation of each sport.
"Cricket is the obvious choice of all youngsters but later on when they understand their real capabilities, these youngsters switch onto other sports. At cricket we are in Division I and have maintained our place at the top for the past eight years. Football and hockey are two other sports that are in good shape apart from athletics, where Joseph Vaz is among the top three or four in Sri Lanka," Fernando explained."There is average participation in sports such as, badminton, boxing, karate, chess and carrom.
olleyball is struggling to survive at the moment due to lack of players. However there is a lot of potential in this sport. Most of the players who are doing sports are involved in it due to their own interest. But the talented ones are not permitted by their parents or guardians to indulge in sports. It's common in every sport. We had baseball and were undisputed champions a few years ago. But it has been two decades since the school lost interest in the sport. The principal has ideas of reintroducing baseball and two new sports such as rugby and wrestling since we are a boys' school," he added.
The academic level of the school is at a pleasing stage according to Rev. Fr. Gunaratne. The percentage levels of the students who get through their examinations are overwhelmingly increasing. Though 50 percent of students get through the grade five scholarship examinations each year, most of them prefer to remain at Joseph Vaz. In addition over 85 percent of the students successfully pass the G. C. E. O/L exam and over 50 percent get through the G. C. E. A/Ls. At least 100 students enter the universities each year.
"Thankfully the amount of sportsmen within that calculation is over 40 percent on an average, which is a good situation. Many parents or their guardians prefer to send their children for after school classes rather than send them for extra curricular activities. We find it difficult to make an extra or co-curricular activities compulsory for each student since we are a government school. But it's a must for all advance level students to practice any sport thrice a week. If they are not in a position for that we have other projects to keep them busy," the principal said.
The efforts of the school authorities to ensure equal status for all students are welcomed by many including the students. The principal, in order to make sure the school practices its traditional values has implemented a strict disciplinary code. One such rule is to make sure students are punctual at school. Students who arrive at school later than 7.45 am are asked to go back home.
Despite the Italian influence where a parent or at times both of them are kept away from their children, Joseph Vaz makes sure each student feels comfortable at school, so their true talents could be utilised. The principal, Rev. Fr. Gunaratne who was an accurate fast bowler during his hay days wished that Joseph Vaz could someday become a leading school in sports with the support around them. But according to school officials the commitment from students and parents too are needed.
"Presently all things are placed accordingly. We have a ground; all basic facilities are there. We attempted to build an indoor sports complex next to the school premises but due to various reasons the project did not get off the ground. What we lack now is a gym, a suitable ground, ample practice sessions and the commitment to get to the top."