LOLC is expanding its activities in the North with the Central Bank Governor Ajit Nivard Cabraal laying the foundation stone last week in Jaffna for a new northern province branch office which will be a 5-storey building.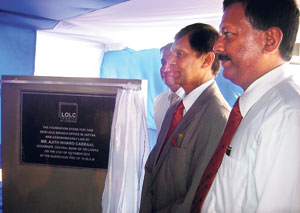 Picture shows from left - Ishara Nanayakkara, Deputy Chairman LOLC, Governor Cabraal and Mr Jayawardena.
The construction of new building in Jaffna is scheduled to be completed within the ensuing months. The Governor also opened a branch of LB Finance during his visit to the North. At present, LOLC has a total of five branches and service centres in Northern province which are located in Jaffna, Vavuniya, Chunnakam, Manipay and Chavakacheri.The group expects to open new service centres in Kilinochchi, Mannar and Nelliady in the next few months to increase the number of branches to eight.
"We penetrated the Northern territory last year when we established a single branch in Jaffna. We have further established a number of branches in the Northeast. The company is confident that the Northeast region will provide ample opportunities for investment of a higher magnitude," said LOLC Managing Director Kapila Jayawardena.
Mr Cabraal said that this was his eighthvisit to Jaffna after the end of the war. Before his period none of the governors made official visits to jaffna. "In 10 years time many people will come and invest in Jaffna and Kilinochchi while new finance companies have extended their business to Jaffna which is much appreciated," he said