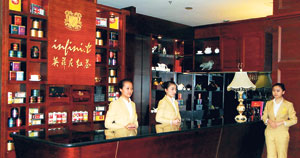 The Beijing Heladiv boutique
Heladiv Infini-T, the exclusive chain of tea boutiques franchised by HVA Foods (Pvt) Ltd, opened this month as the largest tea room in the heart of Beijing.
The Sri Lankan company said Heladiv Infini-T concept will serve an array of flavourful teas from Sri Lanka. "Considered to be a high profile tea growing destination, Sri Lanka tea enjoys premium status in the Far East. An exclusive tea boutique like Infini-T helps to strengthen this positive feel for pure Ceylon tea and the island nation it comes from. As the pioneer of many tea based innovations in Sri Lanka, HVA Foods takes pride in achieving this milestone together with their brand partners in China, Beijing Pure Ceylon Tea Company," the statement said.