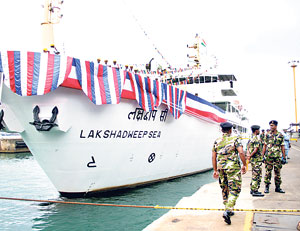 Pic by J. Weerasekera shows the vessel at the Colombo port before departure.
Colombo Dockyard PLC this week 'flagged' off the second 250 passenger vessel built for the Indian government at a ceremony in Colombo.
The vessel 'Lakshadweep Sea' is for the Indian Union Territory of Lakshadweep and will join sister vessel 'Arabian Sea (also built by Dockyard)' to operate between the mainland (Cochin-India) and the island of Lakshadweep for commuters.
Present at the ceremony were Jitendra Kumar Dadloo, Administrator of the Indian Union Territory, Indian High Commissioner Ashok K. Kantha and Dockyard officials. The company said it has built over 200 vessels for the Maldives, India, Singapore, Cyprus, Nigeria and Saudi Arabia.