Treasury Secretary P.B. Jayasundera, arguably the most powerful technocrat in President Mahinda Rajapaksa's government who is also Secretary to the Ministry of Economic Development, is to move out of the latter post but given additional administrative powers with more state institutions coming under his wing, government sources said.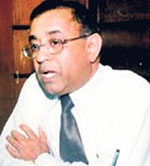 P.B. Jayasundera
Dr. Jayasundara will get wide powers to control Sri Lanka's revenue institutions such as Inland Revenue Department, Customs Department, and Excise Department, and key sectors of the country's economy, they added.
The powerful bureaucrat has been handling investment promotion, tourism and nation building in his capacity as Secretary to the Ministry of Economic Development which is headed by the President's younger brother, parliamentarian Basil Rajapaksa.
But the sources said, there have been differences of opinion between the two in granting approval for projects with high investments and over administrative matters and this may be the reason for clipping Dr Jayasundara's wings which will happen along with the upcoming cabinet reshuffle. "These changes are being made by the 'very' top," one source said.