The public servant-turned entrepreneur who for the last 17 years made lamps and ornamental jewellery with a different craft using mineral sands and semi-precious stones employing a unique and closely guarded scientific technology has now expanded his technology to embrace a wider range of products such as making portraits, statues, custom-made architectural requirements, wall-hangings while continuing the earlier product range too.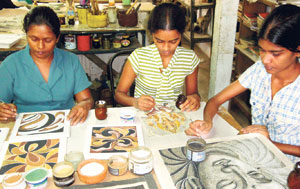 Picture shows: sand crafted boxes depicting animal skins; Sand Crafted collection of Buddha statues; Girls involved in the delicate sand crafting; Ghandara Buddha statue sand crafted; Ranjith Dias' picture in sand-crafted portrait.
A geologist, Ranjith Dias retired from state services in 1994 after being employed in the Geological Survey Department, Export Development Board (EDB) and the Mahaweli. His efforts and unique product range was profiled in the Sunday Financial Times (now Business Times) of 17/7/2005.
He turns out these unique products in the backyard of his home in Hokandara with only 10 workers which has developed into a Rs 2 million a month enterprise. The novelty and beauty of the business is that it is entirely based on sand or for that matter the tiny molecules of dust that are normally swept away as waste.
His major business today is to cater to the transit passengers at the airport and that business alone brings him a revenue of Rs 1 million a month. Mr Dias told the Business Times last week: "You get me your photograph and we will produce an identical replica, done with sand only. Though highly priced there is a heavy demand for them". His local market flourishes in 'Ran Ruwan' shops with brisk business in the city supermarket which nets around another Rs 1 million per month.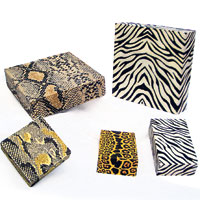 The craft is a combination of human skills, colour separation and spraying in a suitable combination of mineral sands and semi-precious stones onto glass and other objects giving a panoramic effect and illumination which would enhance this effect. 'Ran Ruwan' uses sand from Ratnapura. "A small portion of mineral sands would be enough for this product development," he added.
Mr Dias' first creations were lamps and costume jewellery and now he has moved to drawings, statues, portrait and wall hangings but everything is made with sand only. His workers also turn out containers or boxes, sand-crafted out of animal skins which are also sold at high prices. A sand-crafted wall hanging depicting the Temple of the Tooth was priced at Rs 1.5 million and another wall handling now available is priced at Rs 200,000, but they are definitely sell-able, he said.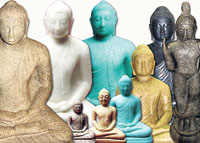 The company has received a range of awards for its work and entrepreneurship including a Presidential award. Mr Dias said that it is something like value addition to dust and said: "In vacuum cleaners there is dust. We have the technology to develop these waste dust and sedimentation, panning, sieving could be turned into modern artistic creation."
They now develop a process to create precise replicas to look like originals but in miniature form with Mr Dias saying: "I am glad, I have been successful in my endeavour and now I want to hand my business down to my children as they are now capable of handling it. Then I would try my hand on educating the public on matters like nature and interesting locations."
He said that they are also involved in creating items for children's education such as sand-crafted maps, etc. He said he would also like to try his hand in writing some literature on mineral sands and connected areas.