I have never been in a Rolls Royce just to feel its comfort and ambiance. Yet, I feel that my eyes have been blessed enough to see the Indian legend Sachin Tendulkar scalpelling opposing bowlers with such elegance that you can never complain after he had hammered a 48 ball 71 not out, leading the Mumbai Indians to a seven wicket win over the Kolkata Riders in their IPL tie. It had all the indications that the millions of cricket fans who watched that innings by the mighty atom were being taken for a drive in a Rolls Royce through the streets of Mumbai with all the modern comforts it has to offer.
Tendulkar was spurred by stands of 61 and 92 runs which he had with the twenty four-year-old rookie Shikhar Dhawan who was born on December 5, 1985 and was only around four years old when Lankan veteran Sanath Jayasuriya played his first one-day international against the Australians on 26, December 1989 and whom he replaced for this match.
Maybe the dropping of this 40-year-old veteran who has rendered yeoman service to all forms of cricket with sheer power hitting - is also a call that his IPL crusade is all but over. If he does not play another match or fail after being offered another chance it might seal his fate. In season four, no multi-million franchise is going to hire a failing 41-year-old veteran how good his past record is. In the three innings that he has played as opener he had scores of 23 scored in 14 balls, 7 scored in ten balls and a five ball two.
Yet, the ground reality is that in spite of his chequered form with the bat in the recent past and falling eye-ball co-ordination, Jayasuriya may making it into the T20 World Cup which will be played in the West Indies a few moons hence, despite of objections from some quarters with in.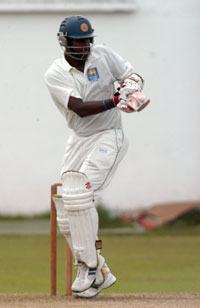 Jeewantha Kulathunga
Are the Lankan selectors saddled with Jayasuriya's past image or his political affiliations? If it is either the selectors should have the guts and courage to stand up and say, your past record is good but it does not apply here and your political affiliations are of no concern to us. What concerns us is your present ability and how well you could address the present national cricketing needs. If they cannot say this they should not be there.
While this fiasco is going on, are the selectors also trying to take the Lankan public and the national media on a ride with the Kulatunga myth? The Lankan selectors called the 36 years and 146 day old (up to date) in to the National Pool long after they had submitted their original pool of thirty to the ICC. A media release from SLC said, "Jeevantha was included into the squad considering his outstanding performance in the recently concluded Bank of Ceylon Inter-Provincial Twenty20 tournament."
However in reality there are no provisions provided from the ICC to include any players outside the nominated lot after the names are submitted. The squad of thirty was submitted to the ICC by the 28th of February 2010.
By Tuesday March 30 SLC also has to submit the list of 15 players who will be visiting the Caribbean to take part in the T20 World Cup. This requirement mostly stands because it helps the authorities and gives them time to attend to logistical issues like accommodation and printing names on the T-Shirts etc.
But, changing a player from the list of thirty already submitted to the ICC calls for certain criteria. The most common is a medical issue, like a player injury. However even for that first, the team Physio has to say that the said player is injured and this has to be certified by a registered doctor. These letters when being submitted to the ICC, also should be accompanied by another letter from the said player admitting that he is really injured.
Besides this a player can be removed from a squad on severe disciplinary issues. If all these criteria are adhered is a question and if Jeewantha was just selected to please the media and the public, it is grave subject matter and action should be taken against it.
There is another angle to this. Now as selectors say at 36 years and 146 days old Jeewantha Kulatunga is good enough to be called to the national pool. Then in the same breath at 36 years and 60 days Joseph Chaminda Vaas who was the highest wicket taker in the IPL till last week in this present third season and who also performed really well in local Provincial tournament is not good enough! Why is this apathy? Jayasuriya and Jeewantha are good, but Joseph Chaminda is bad?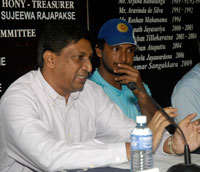 Selectors are they playing fair by cricket, cricketers and the people
This column is not on a crusade to recall Chaminda Vaas. But, our argument is that law of the land should be equal to all players, if failing Jayasuriya at 40 plus is good enough, if Jeewantha at 36 and 146 days is good enough, Chaminda Vaas at 36 and 60 days cannot be bad just going through his present bowling form.
While things are in this status at the top, we learn alls not well even among the players. They say that another senior player who is in the squad may go on only till the World Cup and retire. Then his position in the team will fall vacant. One of the most influential and top players want another senior player who was branded only as a Test player till recently to be placed at the position that is going to be vacant.
However there is a player who has been in roaring form as an opener and also has captained the National Team in one game and also who is senior by the year of entry also eyeing this position. So when the top is in squabble what could the young ones at the bottom do?
It is also learned this squabble among the players also has turned very ugly. They say recently a very highly placed person received an anonymous petition. However on the strength of the letter and knowing from where it was a very high level inquiry was mooted and some of the national players were grilled by certain officials on certain charges that was contained in that anonymous letter. This is the depth that Sri Lanka cricket has fallen to right at this moment.