The tournament man was caught red handed playing Romeo in the citadel. However once hit the broadsheets on the streets he had come out in his entire splendour and said he is not afraid of the media and no one can touch him where the job is concerned. However they say that a section is building up facts to hold an inquiry against him.
Into the kitty
It is learned that all monetary matters pertaining to the business at the Citadel may be handled by the treasury. The reason: There have been many accusations of mishandling and fraud.
Besides the above, government officials are also aware that the Citadel is to receive a thumping sum of Rs.440 million for the big bash that is to take place in the near east and they wonder how the administrators would handle such a huge sum without supervision.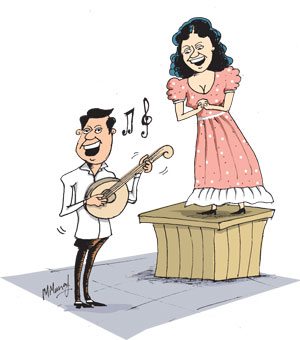 The luxury car
A madam who is reported to have channeled millions of rupees on wasteful projects and under auditing has been given a brand new car by the administration.
The new betting centre
The new office which was officially commissioned for the big bash is now being used by some officials for betting purposes. A big wig at the Citadel is looking out for the culprits to moot disciplinary action against them.
Kandy Dancers
The Oval Ball is spinning the wrong way these days. With nominations rejected and the hills being the only nominee the main Kandy Dancers say there was never a meeting. Maybe it is another case for a null and void. One cannot understand Isoma backing the one who insulted his issue. The carrot, it is rumoured, is to organize the sevens as Pumpkin will not come this time.
Up with a complaint
Three from the Interim has gone to the Chief Investigating types to complain about the former of the Oval Ball. The main issue is they answered the auditing one and the accounts are cleared. Also that Kilroy signed cheques during One Nayake time. Big house is furious that the Veda, Big Bull and Big Mouth have put him in a soup a la Aluthkade. So it is a complaint.
Now the name is missing
Sene the incoming of the Oval Ball sees an unexpected turn with his name missing. Sene the Western One did not go in time. Stories are now floating as to how WP Sene got late and his Secretarial one too is being blamed. Big Mull and Big Mouth are spreading stories a La Muss Ah Mill.