16 days of IPL, 29 more to go – a long duration for a short form of cricket. The strong are getting stronger and the weak weaker. Mumbai Indians and Bangalore Royal Challengers are leading the table, helped to a large extent by the genius of Tendulkar, now transferred to Twenty 20 format, and the consistency of Kallis, making Bangalore look very formidable.
Kolkatta Knight Riders, after a great start, are stuttering, while the Kings XI Punjab, inspite of Sangakkara and Jayawardene, seem woefully out of form, though they did manage a super over victory over a Dhoni-less and languishing Chennai. Deccan Chargers and Delhi Daredevils seem to be the other 2 teams to look out for, while Rajasthan Royals try to claw their way back into reckoning.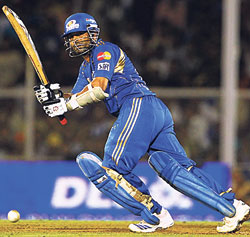 Veteran Sachin Tendulkar has turned the Mumbai Indians into a champion outfit.
However, Chris Gayle is back for Kolkatta, just as Brett Lee and Shaun Marsh are raring to go for Kings XI. These are impact players and will no doubt be the key to any change of fortunes for their respective teams.
The big news of the week was the announcement of the two new franchises, numbers 9 and 10 last Sunday at Chennai by Lalit Modi. The more talked-about names like Videocon were not quite up there with the bids. It was left to Sahara, who has been involved with Indian cricket sponsorship for a while now, to pick up the Pune franchise for $ 370 million and a consortium of 5 partners, Rendezvous to pick up Kochi for $333.33 million, leaving a disappointed Ahmedabad, which was one of the favoured franchises up for grabs.
These enormous bids, from a valuation point of view, was quite a fillip for IPL and the other franchisees, where the combined bid of 8 teams in 2008 was only $ 624.7 million, compared to $703 million for the 2 new ones. This even lead players like Kapil Dev to comment that perhaps the huge cricketer salaries for 45 days were not quite enough, given the escalating team valuations! The high bids also saw team owners share valuations shooting up. United Breweries Ltd (Bangalore Royal Challengers), India Cements Ltd (Chennai Superkings) and Deccan Chronicle Holdings Ltd (Deccan Chargers), all saw their shares go up by 3.5-4% after the announcements.
IPL re-auctions are due in September. Existing franchisees are allowed to retain 3 of their foreign and 4 of their domestic players, bringing down the available big names for the new franchises drastically. Apart from winning matches, the big names also draw big sponsorship money and this is something the new franchises will desperately need, given that their annual costs could be 3 to 5 times that of existing franchises.
Lalit Modi has denied any plans for IPL to go public stating that public offers were for raising money and that IPL did not need the money. He also said that he expects this season to generate more than $1 billion revenues, given the increasing fan following attracting a large number of fan followers.
Meanwhile, the IPL has progressed in all its glory, with great ground facilities, four new venues, IPL Nites parties which all players gamely attend, exclusive club lounges and social responsibility related activities such as Environment and Education. IPL has thus far proved to be an enterprise of entertainment, commerce and innovation that has surpassed all expectations and imagination runs wild on the exciting developments and future of IPL world.