Professor Ozawa Satoru's latest book titled "Introduction to C and X Window Programming- a guide for the very beginners to development level" was launched at the Open University of Sri Lanka recently. Introducing Professor Ozawa as an affectionate friend of Sri Lanka, Prof. Jayantha Wijeratne, a former Vice Chancellor of the Kelaniya University highlighted his contribution to propagate Information and Communication Technology (ICT) as a technological tool to teach Physics.
He is a renowned scholar on e-learning. The ceremony was held at the Senate House of the Open University (OUSL), Nawala on March 15 2010, with the participation of Prof. Upali Vidanapathirana Vice Chancellor, and members of the Senate of OUSL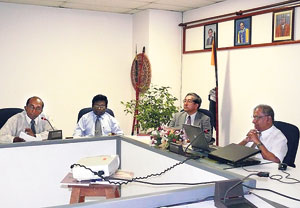 The OUSL has been the premier higher learning institution in Sri Lanka which uses distance teaching methodologies. Professor Ozawa's choice of OUSL to launch his book is quite fitting because of the University's long years of experience in teaching Law, Social Sciences, Management, Nursing, Engineering Technology Languages, Education etc, during the past 30 years.
The OUSL's ability to reach out to all four corners of the country using its regional network and the "state-of-the-art" educational technology facilities has made this argument even more insightful. Therefore a technology-infrastructure-human resource linkage between the University Ibaraki of Japan and the OUSL is expected to be beneficial for the entire nation irrespective of geographic, social economic and ethnic distance.
Speaking at this occasion Prof. Ozawa Satoru said that the main resource available in Sri Lanka is her human resource base. "The Graphic Software which is developed and used in this book helps users to work with the software, modify and redevelop it to suit one's own requirements". There was a short demonstration of the use and benefits of this technology that was made by Professor Ozawa and the book was reviewed by Prof. T.M. Pallewatte, Faculty of Engineering and Technology of OUSL