The Thames College officially ingurated on March 24 ceremoniously commencing operations to foster the development of key skills enabling students to adapt to the new challenges of the modern world.
Based within the heart of Nugegoda the institute has been located for convenience for students in their transportation needs and other provisions.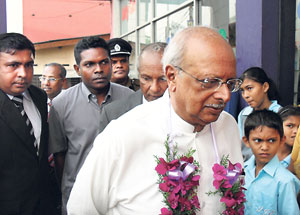 Personalized treatment is ensured by the enrolment in relatively low number of students for each course, meaning classes take place in small groups with a designated lecturer. The training is predominantly focused, above all on their professional development.
By 7.30 the VIP had arrived - Professor Tissa Vitharana, Hon Minister of Science and Technology was the Chief Guest at the opening of Thames College!
Chief Guest was greeted by Mr. Priyantha Padmasiri, Chairman Thames Group of Companies Professor Upali Jayasekara, Academics Director Thames College, Wing Commander Palitha Silva Director Thames College and Mr. Chinthana Vithanage Managing Director Thames College.
After being garlanded by little Hiwin, son of Mr Priyantha Padmasiri, Professor Tissa Vitharana was conducted by a troupe of Kandyan dancers to the main doors of Thames College.
At the auspicious time of 7.43 a.m. the ribbon was cut and to the accompaniment of the sound of the conch shell and the beat of drums, Thames College was declared open. Thames College is the latest project undertaken by Mr Priyantha Padmasiri, Chairman, Thames Group of Companies.
A sister company of Thames International, a pioneer in the field of overseas student placement, this is yet another milestone that has been reached through the concerted efforts of the company, in providing the best educational service to the deserving younger generation of our country.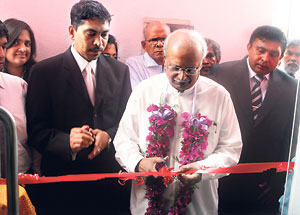 Headed by a team of experts in the field of Further and Higher Education, Thames College will provide students with the opportunity to study the first two years of a program in Sri Lanka and then transfer to a foreign university for the final year of the Degree Program.
The College will provide university level education in Travel and Tourism, Information Technology, Business, Logistics and later on Law and Healthcare subjects depending on the demand, equivalent in standard to courses that are being conducted in the UK, Australia, New Zealand and the United States of America.
"With a huge volume of students sitting for their Advanced Level examinations each year, and only the top 11% of students who pass this exam being selected to state Universities by the University Grants Commission (according to Wikipedia), most students are left with no option but to travel overseas to obtain a recognized degree level qualification" stated Mr Padmasiri .
He goes on further to add, "Having been in the business of student placement for 6 years, we realized that a huge amount of money is being channelled out of the country each year due to our students opting to go overseas for higher education.
As much as GBP10,000 per year per student, with approximately 5,000 students per year opting for higher education UK only, the drain on the country's economy is immense. We felt that a better option would be to provide university level education matching international standards right here in Sri Lanka at a fraction of the cost that would be spent for the same qualification if a student travelled overseas to study.
We hope to tie up with universities overseas and offer programs in Travel & Tourism, Information Technology, Business, Logistics, Law and Healthcare - equivalent in standard to courses that are being conducted in the UK, Australia, New Zealand and the United States of America, so that students will receive value for money.
To meet the demand for the necessity to have a good command of the English language, we also have IELTS and Business English included in our programs". Whilst wishing Thames College all success we hope they can reach their goal to provide the best educational service to the younger generation .