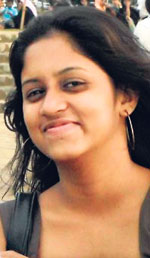 Nimanthie Ariyasinghe
President cowabunga
Stage 2 student committee of TKF is highly excited and enthusiastic about COWABUNGA, their annual outing organized for, 04/04/10 at River View, Wadduwa - a splendid place for leisure and relaxation, with the golden beach and the tranquil environment to soothe one's mind.
A day full of events have been organized to enhance students' team spirit, competitiveness, organizing and planning skills in event management. According to Nimanthie - the president, the young energetic girls and boys of the team (Shashika, Elmo, Marini, Rochelle, Rumesh, Nabeil) have been working hard under the guidance and support of Failan Saleem - MD/Principal Lecturer, TKF to ensure that the participants would have an unforgettable day.
Tickets will be available at the student council of TKF from Saturday the 27th of March. All of you, past and present members of the TKF family, don't hesitate to call Nimanithie on 0772 386057, or Madhura on 0777 266 277 for further information. You can also log on to the TKF website or on to our facebook page for more details.
COWABUNGA!!! Look forward to feel the waves of fun, laughter and enjoyment.
| | | |
| --- | --- | --- |
| Rochelle Silva | Elmo Shanmugam | Marini Nakanda |
| Nabeil Johar | Shashika Dissanayake | Rumesh Dilshan |