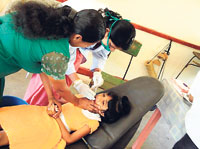 "Pulse- Every Life Matters", the health camp organized by the Rotaract Club of American National College was successfully held in Dewipahala, Kuruvita, Ratnapura on March 21 2010.
Four doctors and one Dental surgeon treated 300 patients and provided them with medicine, free of charge. The patients were also provided with nutritional food supplements. The purpose of this health camp was to let the less privileged segment of society to experience proper health care facilities and the purpose was successfully achieved.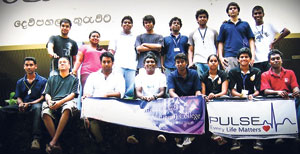 The driving force behind this successful project was Rtr. Arun Haridharshan- President Rotaract Club of ANC, Rtr. Imasha Fernando- Project Chairperson, Rtr. Miyuru Jayathilake- Project Secretary, Rtr. Chirath Manchanayaka- Project Treasurer, Rtr. Vikkash Gopal- Project Coordinator, Rtr. Chamath Jayasekara- Project Coordinator and the Board and members of the Rotaract Club of ANC.
Due to popular demand the second phase of this project will take place in April, in yet another less-privileged area. As always, the Rotaract Club of ANC has once again made its mark by serving the community.