The Sri Lanka Institute of Information Technology (SLIIT) has always been at the forefront of educational excellence. With partnerships established in many foreign universities, including the UK, Australia, Canada and Sweden, this renowned institution always seeks to expand its boundaries within a constantly evolving industry.
Sheffield Hallam University (SHU) UK has been in formal partnership with SLIIT since 2006. The collaboration allows suitably qualified SLIIT students to come to Sheffield Hallam University during the summer period to top up their area of study to the honours degree programmes offered by the university in the sphere of Information Technology.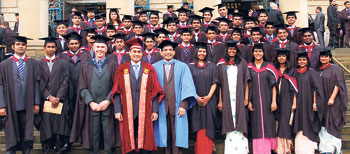 Professor Lalith Gamage, President & CEO - SLIIT, and Professor Phillip Jones, Vice Chancellor, Sheffield Hallam University.
Mr. Tim Mulroy, Collaborative portfolio Director of the Faculty of Arts, Computing, Engineering and Sciences at SHU (UK), articulated the experiences of working with SLIIT since the beginning of this collaboration in 2006.
He expressed that there is a strong demand by SLIIT students for IT experience in the UK, which has consistently been promoted by SHU to provide an accelerated route to a degree. The number of SLIIT students at SHU enrolling in the field of IT has been steadily increasing over the years, and this year it is anticipated that as many as 120 students will be accepted for the university's summer intake.
"The quality of the students at SLIIT is very high, and their performance alongside their peers is highly rated. They are extremely personable and eager to learn, and set an example for other students as models of exemplary behaviour and we hope to see the numbers increase further in the years to come", states Mr. Mulroy. The unique advantage SLIIT students will gain from this agreement with SHU will be the well developed semester top up programmes offered by this prestigious university, ensuring that students have ample opportunities to benefit with full scholarships and Master's degrees as well as job placement prospects. The most recent batch of SLIIT students who graduated from SHU this February have excelled in Software Engineering and Computer Systems and Networks, with 16 earning First Class Honours passes in both subject streams.
Professor Lalith Gamage, President and CEO of SLIIT, and Professor Phillip Jones, Vice Chancellor of Sheffield Hallam University, state that SLIIT and SHU have come to an agreement for the development of the experienced staff at SLIIT as well. "The courses at SLIIT are conducted according to international standards and we provide facilities for staff to benefit from training at SHU and other foreign universities, as well as opportunities for PhD scholarships, constantly raising the bar and keeping abreast of changes within the fields of IT, Electronic Engineering, Business and other relevant subject streams" claims Professor Gamage. This Partnership Development Fund, initiated in 2009, aims to provide significant development activities for SLIIT staff at the university with the objective of strengthening the collaborative relationship between the two institutions and it also covers necessary expenses during periods of postgraduate or doctoral level study at the university.
SLIIT recently unveiled a state-of-the-art Electronic Engineering computer lab at the Campus in Malabe as part of its initiative to provide more facilities to an ever growing student body. SLIIT is reputed to be the only university in Sri Lanka to possess the most sophisticated and hi-tech equipment such as the Telecommunications Instructional Modelling System (TIMS) which allows electronic engineering students to experiment with real signals instead of simulations.
As the foremost tertiary institution in Sri Lanka to possess such a modelling system to teach telecommunications and related subjects., SLIIT continues to redefine educational needs and fulfill industry demands not only for IT professionals in the country, but also in the spheres of Business and Electronic Engineering as well.