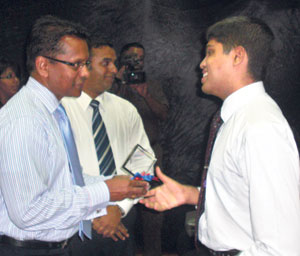 Chief Guest Mr. Bradley Emerson presenting an award to Tharindra Gooneratne, the Sri Lankan Prize Winner for Business Strategy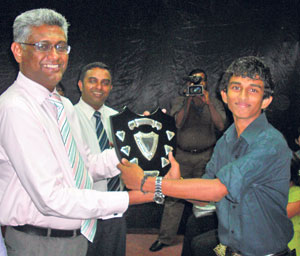 Guest of Honour Mr. Radley Stephen presenting the trophy to the captain of the winning team of the Certificate Level Cricket Tournament
March 24 2010 marked an important day for Imperial College. It was a day of celebration and recognition as Sri Lankan prize winners, Imperial College's own high flyers, sportsmanship, commitment and dedication were rewarded at the Imperial College Awards Evening.
The awards ceremony was held at the College auditorium amidst a gathering of distinguished guests, parents, prize winners and students. Medals and plaques were awarded to the Sri Lankan prize winners at the November 2009 CIMA examinations, Imperial College's own high flyers, students who secured 3 A grades at the 2009 local A/L examinations, runners up and winners of the Certificate Level six-a-side cricket tournament and Student Council members.
The awards were handed out by Chief Guest, Mr. Bradley Emerson Regional Director South Asia and Middle East, CIMA, Guest of Honour, Mr. Radley Stephen Regional Manager- Business Development & Communications, CIMA and by the Directors of Imperial College, Mr. Pravinth Rajaratnam and Mr. S. Sivabaskaran.
In his opening statement, S. Sivabaskaran stated that Imperial College was proud to have 3 Sri Lankan prize winners and numerous students who obtained 3 A grades at the local A/L examinations. He further stated that it was important to reward students who secured very high marks and fell short of a Sri Lankan prize. He also stated "the celebrations are not only to reward academic achievements, but also to felicitate extracurricular achievements. In our efforts to create the leaders of tomorrow, we reward extracurricular activities and recognize students who have displayed great efforts and commitment towards organizing events"
Chief Guest, Mr. Emerson in his inspiring address stated that "winning is temporary but the attitude gained from winning is permanent". He also stated that each individual can make a difference in realizing the untold dreams of their parents.
The Highlight of the evening was the vote of thanks delivered by Tharindra Gooneratne, the 18 year old Sri Lankan prize winner. In his heartwarming speech he stated that "the art of success is doing what you can do well, as well as you can". He further stated that he was especially grateful to his lecturers who take extra effort in ensuring that students are cared for. "We can easily approach any of our lecturers when we have doubts and they would spend time in explaining it to us" He further stated that he truly felt that his lecturers made a difference in his approach to studies. He ended his speech with a thought provoking statement for all students "If we put our minds to it, even the sky is limitless".
At Imperial College, students are encouraged to reach greater heights with the dedicated tutoring and commitment for their success. Imperial College stays true to its motto; 'Nurturing Tomorrow's Leaders.