Last week we looked at importance of the Time Matrix and the applicability of this important concept in the overall Effectiveness process. This week lets look at each quadrant in a different form .
Ideally if some one spends more time in any one quadrants the results would be natural to that quadrant. Lets look at each quadrant and the results of spending more time in each of those.
Below are four figures to illustrate in detail.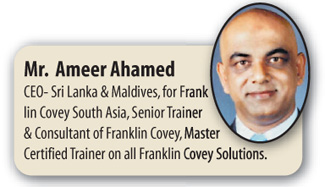 Quadrant one is the fire fighting quadrant which is Important as well as Urgent. If one spends more time in this area you can just imagine the outcome of it as mentioned . There are other people who spend a great deal of time in "urgent, but not important" Quadrant III, thinking they're in Quadrant I. They spend most of their time reacting to things that are urgent, assuming they are also important But the reality is that the urgency of these matters is often based on the priorities and expectations of others.
People who spend time almost exclusively in Quadrants III and IV basically lead irresponsible lives.
Effective people stay out of Quadrants III and IV because, urgent or not, they aren't important. They also shrink Quadrant I down to size by spending more time in Quadrant II. Quadrant II is the heart of effective personal management. It deals with things that are not urgent, but are important.
It deals with things like building relationships, writing a personal mission statement, long-range planning, exercising, preventive maintenance, preparation - all those things we know we need to do, but somehow seldom get around to doing, because they aren't urgent.
To paraphrase Peter Drucker, effective people are not problem-minded; they're opportunity-minded. They feed opportunities and starve problems. They think preventively. They have genuine Quadrant I crises and emergencies that require their immediate attention, but the number is comparatively small. They keep P and PC in balance by focusing on the important, but not urgent, high leverage capacity-building activities of Quadrant II.
Now look again at the nature of this question:
What one thing could you do in your personal and professional life that, if you did on a regular basis, would make a tremendous positive difference in your life? Answer is in Quadrant two ?
Quadrant II activities have that kind of impact. Our effectiveness takes quantum leaps when we do them.
Whether you are a student at the university, a worker in an assembly line, a homemaker, fashion designer, or president of a company, I believe that if you were to ask what lies in Quadrant II and cultivate the proactivity to go after it, you would find the same results. Your effectiveness would increase dramatically. Your crises and problems would shrink to manageable proportions because you would be thinking ahead, working on the roots, doing the preventive things that keep situations from developing into crises in the first place. In time management jargon, this is called the Pareto Principle - 80 percent of the results flow out of 20 percent of the activities.