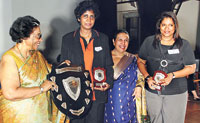 Ladies' College DVS has celebrated more than a quarter century of service as a premier educational institution. In extending and expanding the avenues of modern education, LC DVS leads the way by providing skills training that goes beyond mere coursework, by nurturing values and building character to equip students to make a positive contribution to society.
This novel approach to learning has positioned the Centre as being both unique and innovative.
Ladies' College Department of Vocational Studies held its Annual Awards Day on Friday March 5 at the Ladies' College Hall. The Chief Guest was Prof. Chandra Gunawardena, a well known figure in the field of education.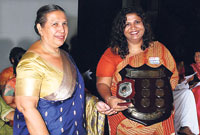 Prof. Gunawardena is an Emeritus Professor of Education, Open University of Sri Lanka. Recently she was the team leader in the Distance Education Modernization Project and was involved in guiding DVS to develop its first online course - Diploma in Special Needs Education, Specific Learning Disabilities.
The welcome address was given by the Principal Mrs. Nirmali Wickremesinghe and the Director's Report for the year 2009 was presented by Mrs. Mala Salgado. Three hundred and forty (340) students received their certificates for courses in the following - Pre-school and Sub-primary Education, Special Needs Education, Secretarial Studies, Practical English, Conversational and General English, Conversational Tamil and Interior Design.