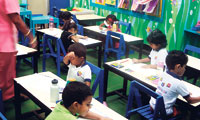 The morning of March 20th 2010 - Saturday, had an air filled with buoyancy and expectation. Wycherley was organizing an Annual kidz art competition, the first of its kind at Wycherley - even more special as it is the 'Silver Jubilee Year', of the School.
This was a special day for kids from a few Montessoris. The picturesque classrooms were arranged with all the material that was needed for the competition. The ever willing and dedicated Elementary Section staff of Wycherley was at hand to do the needful.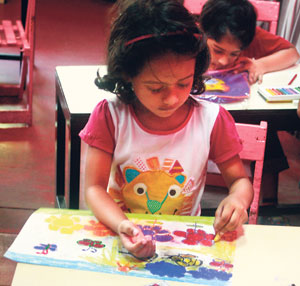 At nine in the morning, kids, mums and dads kept coming in and things fell into place by 9:30am. The little ones were told what they will have to illustrate. They could choose to illustrate one of the topics given - a big butterfly, a tree, a house, a fish tank or garden of flowers. They took their assignments very seriously and one could see the awesome sight of the four and five year olds busy at work with utmost concentration.
When they had completed their work they were given refreshments and play time in the kiddies' park. Needless to say they did have a whale of a time. The morning ended with them having a take home gift of a little knapsack and it truly was a day for them to remember.
The Awards Ceremony and the Exhibition of the children's art work will take place on Saturday April 3, 2010 at 10. a.m. at Wycherley International School, 232, Bauddhaloka Mawatha. Colombo 07.