PC Pharma, a subsidiary of PCH Holdings, recently added another chapter to its ongoing campaign of creating awareness among General Practitioners around the island on various forms of lesser known and sometimes ignored medical issues that may prove fatal if allowed to continue.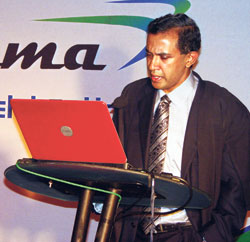 Picture shows Professor Jayamini Seneviratne delivering his presentation.
Dilshard Ikram, General Manager of PC Pharma (Pvt.) Ltd, speaking on the importance of these sessions emphasized on the categorization of ailments prevalent in Sri Lanka. "Certain more threatening ailments are given a higher importance while sicknesses with a lower mortality rate are virtually ignored. Although it is true that threatening sicknesses should be given precedence, all illnesses should be properly diagnosed and treated by a qualified physician to prevent them developing into more serious cases. This is what we advocate through our programmes; we aim to improve the knowledge base of the medical field in the hope of bettering the standards of health care in Sri Lanka."
The programme in which doctors from Kandy took part, highlighted a memorial oration to the work of Dr. W.D.H. Perera, Consultant Dermatologist, who was the mentor to many of the leading Dermatologists in the island. Dr. Perera actively campaigned to establish best practices for skin disorders as both a preventive and corrective measure.
Chief Guest of the event and well-known Professor Jayamini Seneviratne explained to the audience the importance of personal hygiene to protect one's self as well as those around from various transmitted skin diseases.
His comprehensive presentation dealt with the importance of taking even minor skin conditions seriously and thereby avoiding critical complications later on, while providing them with valuable information on diagnosis and treatment.
PC Pharma's main aim in conducting this programme was to convey that even if the skin condition is not serious or life threatening, it should be taken seriously and treated as such. Identification and diagnosis is an important factor and contributes to the final result of the recovery process.
The importance of carrying out the treatment for the stipulated and prescribed period was also spoken on as it affects the successful completion and prevention of re-occurrence of the same problem.