Orange Sewing Solution (Pvt) Ltd which has within a brief period of 18 months grown rapidly to become one of the leading sewing solution companies in Sri Lanka, recently moved to a more spacious location in Mount Lavinia.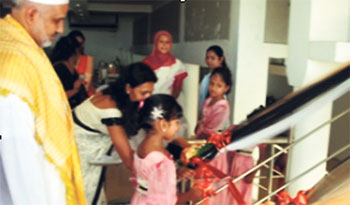 At the new location
The company said the opening ceremony was graced by a number of distinguish guests, including executives of garment industry, bankers, businessmen and well wishes. M. Shafraz Mohomed, Managing Director of the company welcomed the guests and thanked the clients for the confidence placed in Orange Sewing Solutions.
The company was originally established as an agent of Yamato Sewing Machine Manufacturing Company of Japan, a world renowned sewing machine supplier. Subsequently it was also appointed as accredited agent of other leading sewing machine suppliers Highlead China, Racing Taiwan, ISM Taiwan, Powermax China, Chnki China, Hashima China etc.
Orange is a specialist in the provision of 'Best in Class' products, solutions and services to garment industries through facilitating the import of machinery, arranging effective maintenance systems, providing research and development services to specific client requirements and conducting structured training programs for the development of skilled personnel to improve productivity.