Election violence in the run up to the January 26 presidential poll is rising to proportions never seen before in a similar campaign with few amongst the public expecting a free and fair election.
Two Business Times email polls conducted this week on election violence and the taxation system in the country drew the biggest response ever compared to previous Business Times polls with over 300 responses, indicating the public's keen interest to express their views.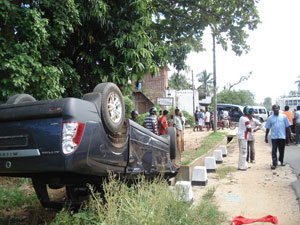 Incidents of election violence have been on the rise. Pic shows a scene of one such incident in Pollonnaruwa
A cross section of business leaders, corporate executives and academics overwhelmingly believe that the instances of violence during this election campaign are far greater than during the 2005 presidential campaign while a majority responded that they do not believe the 2010 elections will be free and fair.
Poll results also showed that a large amount of the respondents feel that the Elections Commissioner is not making an effort to ensure a free and fair election.
In the poll on taxation, when respondents were asked if businesses were overburdened with taxes, the overwhelming majority felt that the current effective tax rate on businesses was unreasonable. They also felt that the country cannot materially progress by taxing businesses and consumption.
President Mahinda Rajapaksa, in a response earlier to questions from the Business Times, had said that while taxes were high compared to other countries, the overall taxes as against a percentage of GDP were much lower.
However a majority of respondents felt that the President's justification is not borne out by facts. Main opposition presidential candidate Gen. (Retd.) Sarath Fonseka, when asked by the Business Times, agreed that taxes were too high and vowed to bring it down by eliminating waste and corruption. Most respondents agreed that his allegations of corruption are borne out by fact.

Election unrest rising
An overwhelming 82.69% of respondents believe that the instances of election violence ahead of the 2010 presidential election are far greater than during the 2005 elections. Around 84.61% of the respondents said the 2010 election would not be free and fair while 40.38% felt that the Elections Commissioner is not doing his job while 36.53% felt that he is doing all he can to ensure a free and fair election.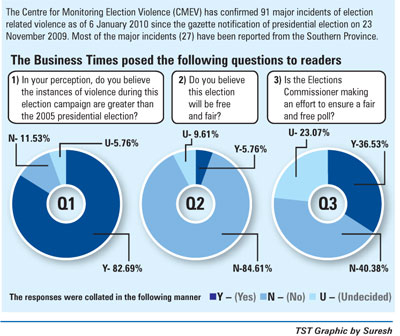 One respondent said the smashing of party offices as seen in recent weeks were not observed in 2005. Election violence before the presidential vote is unprecedented in the history of elections since independence in Sri Lanka, one respondent wrote.
The ruling party is using the government media including the state run TV channels and also a channel owned by the daughter of a Minister who is turncoat from the UNP. All the newspapers owned by the government and also some private newspapers are canvassing for the sitting President. Government thugs led by a Minister notoriously known to be the leader of the underworld will not allow any posters or cutouts of the opposition candidate, it was stated. "It is sad that the Elections Commissioner who has to see that the election is conducted in a free and fair manner is a lame duck and has no powers to direct the police to remove all cutouts and banners of the candidates which are dominated by the President," one response noted.
Respondents felt the election is a mockery of democracy and the ruling party has lost all sense of decency by getting ex army officers to assassinate the character of the opposition candidate on TV talk shows on Rupavahini. It is only now that the government, led by the Defence Secretary, has found irregularities over arms purchases; such action should have been taken while Sarath Fonseka was Army Commander and in active service; and it shows to what level this government will go to in order to win the election, were some of the comments. One said that such action is not even seen in banana republics, adding 'Shame on this government'.
"The public will suffer for another eight years as there will be a dictatorial government where the minority communities, especially the Tamils, will continue to be third class citizens and be seen as traitors," a respondent said. The Sinhalese who voted for the opposition will also be classed as traitors. People will slide further into poverty and will be at the mercy of corrupt politicians who have become rich overnight. It is a do or die battle for these politicians to bring their boss into power again, he said.
Another respondent also felt this election will be the worst in Sri Lanka's history where even the police will turn a blind eye on violence and all other election malpractices. Already the goon gangs of the ruling coalition, especially the turncoats from the opposition have started to intimidate voters. It is a pity that the citizens of this country cannot vote in peace for the candidate of their choice.
Other respondents said the Elections Commissioner has no executive powers over the police and other institutes and must report to a politician at the end of the day. He (Elections Commissioner) can write letters but no one takes them seriously because they have political shelter.
Another response said the Elections Commissioner is trying his best to eliminate election malpractices but is helpless as the police will not follow his orders. The patrician attitude of the police can be judged when the Inspector General of Police (IGP) openly stated that he will be personally responsible for the security of the President and no one else.
Respondents also said the elections will not be free and fair due to the coverage of media institutions such as Rupavahini, ITN, Channel Eye, and state-owned newspapers. They also criticized the conduct of the forces and the police and how prisoners are being released at mere political will. Others said there can be no free and fair election under the current system of governance unless the sitting President is not contesting and can be impartial as happened in 2005 with Chandrika Kumaratunga Bandaranaike.
Tax burden too high for business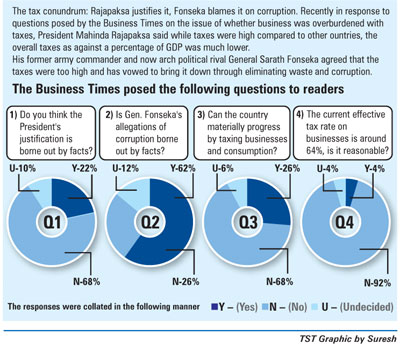 Approximately 68% of respondents felt that President Mahinda Rajapaksa's justification for high taxes in Sri Lanka is not borne out by the facts while 62% felt that General (Retd) Sarath Fonseka's allegations of corruption are borne out by facts. Another 68% of respondents felt that Sri Lanka cannot progress by taxing businesses and consumption while 92% feel that the effective tax rate on businesses is unreasonable.
One respondent to the poll said the tax to GDP ratio is low but since the public sector is not paying taxes, people outside are paying large volumes. State workers get representation without taxation and salaries without taxation. This is a situation of economic apartheid. It is a mockery of a democracy, according to some comments.
"Our Constitution has weak guarantees of equality. Otherwise, these discriminatory tax laws would have been avoided automatically. In many East Asian countries such as Singapore and Malaysia, state enterprises make large profits and pay large volumes of taxes. In Sri Lanka, state enterprises make losses so other people have to pay higher taxes. The respondent added that Board of Investment (BOI) tax holidays are problematic because again, there is taxation without representation," one respondent said.
Another respondent argued that although it is true that overall taxes as against a percentage of GDP is much lower in Sri Lanka than in other countries, it should be manageable provided that public expenditure is curtailed, wasteful expenditure is stopped and corruption is stamped out.
The respondent also said that the tax net needs to be widened but that rates should be reduced. With much difficulty, the business community suffered in silence with the tax burden in order to see an end to the war against terrorism so it is now time to restructure the tax system to a simplified tax regime.
Other respondents said Sri Lanka is lacking structured tax incentive and concessions. Most of the cases which are ad hoc and biased do not target or reach out to growth potential small and medium enterprises (SME) companies.
One said it is a fallacy to believe that the overall taxes were lower as against the GDP as the GDP is highly skewed as it reflects the districts where economic activity is high and not of the entire country, especially the districts dominated by agriculure.
Respondents also felt that the real problem is that Sri Lankans are not paying taxes. They evade taxes and businessmen and professionals are the worst culprits. If everybody paid their dues, the tax burden will be greatly reduced.
One respondent said every successive government seems to be able to raise the corruption bar to a new height and has no doubt that the next one will too. Others felt that Sarath Fonseka's comments on corruption are 'utterances coming out of political ambitions.' Without quantifying the amount lost due to corruption, how can he (Fonseka) say that he will reduce taxes? If he is going to use the money lost due to corruption on development projects, how is he going to reduce taxes? Does Fonseka know how much the country loses every year due to corruption, respondents said.
One respondent said it is a fallacy to assume that the country will progress by taxing business and consumption. The government should prune the public sector. Political patronage is the order of the day and one is shocked to learn the extent of the inefficiency and corruption of the public sector is. An ordinary citizen of this country cannot get any official work done unless he resorts to bribery, respondents said. This is mainly due to the fact that public servants are appointed on recommendations of politicians and meritocracy is unheard of in Sri Lanka. They said the government has to seek revenue from high taxes on the private sector to keep the high inefficient public sector alive by promising salary increases and other perks.
By increasing taxes on businesses, it will dissuade investment and private enterprises will not risk any capital for industrial development. Another respondent said the 64% tax rate is unreasonable but it is a generalization. There are different tax rates for different sectors. For example, the luxury goods sector has 100% tax and the agro-industry exports have 20% taxes and cannot be compared. Taxes are 27% in the tourism sector. However, the consumer pays over 60% on top of these taxes in the forms of commissions charged by the operators at each level of exposure. That is the corruption.
Other respondents said consumption taxes are too high and should be reduced to 20% VAT. In order for the country to progress, the tax net has to be widened to cover a majority. Respondents also feel that with an effective corporate tax rate of 64% which is one of the highest in the world, the government will not attract the private sector locally or internationally to invest in Sri Lanka.
According to a respondent, since independence, Sri Lanka finds 'arm-chair' governments who depend on foreign aid to plot their budgets with no original constructive planning or development strategies. People who win elections leave their constituents and pitch camps in the metropolis. They then settle in air-conditioned abodes and use limousines for movement, completely forgetting and ignoring people. The business community and governments of some countries harp on per capita income as the mirror of development but the norm is poverty.