Around 1,000 of Sri Lanka's business top brass and lesser business names crammed into a hall in the Cinnamon Grand on Tuesday morning, to check out the rising new star in the political landscape - retired General Sarath Fonseka.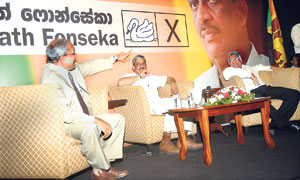 General (Rtd.) Sarath Fonseka flanked by JVP's Somawansa Amerasinghe and UNP's Ranil Wickremesinghe. Pic by Saman Kariyawasam
Even the organisers were surprised by the size of the turnout. Almost every major sector of business was represented at the forum organised for presidential candidate Sarath Fonseka to address the business community. Even a few businessmen and women from regional chambers of commerce had turned up for the event.
"We were not sure how many would come, or whether anyone would come at all. So this is a really good turnout. It is a very very good indicator," said one of the organisers. The large turnout does not necessarily translate into votes. Sri Lankan businesses are known for buttering both sides of their bread in politics. Businesses fund both the incumbent and the challenger at elections, as a security measure against political retaliation and as an investment for future favours, after elections.
But on this occasion many business people seemed genuinely looking for a regime change. Retired general Fonseka, with his reputation for discipline and organisation, is seen as the best alternative. In fact, some businessmen at the event said Mr Fonseka was a better replacement for current President Mahinda Rajapaksa, than any professional politician in the country - despite his next-to-no political experience.

Corruption tipping balance
President Rajapaksa seems to have run out of favour with the Colombo business community very fast since the war victory. Even businessmen that had previously backed President Rajapaksa during the height of war, have cooled off within a few months of peace.
The main reason given, is the special brand of 'Rajapaksa Brotherhood' corruption. "It's called the 'proximity clause.' What that means is, for large projects, you have to get close to them (the Rajapaksas) or to one of their agents," said one businessman.
"All the major projects are with the government. Why is that? We can't access these. They go to their people," said another businessman. "The environment is really not conducive for business activity. The corruption has got worse than ever before. You can't get things done unless you have connections," said a business owner.
"Our costs keep going up. Where are the benefits of ending the war? We can't even develop our businesses. But for everything they want, they make us pay," said another business owner. Sri Lankan businesses are partners in public-private corruption, and bribery and greasing are commonplace practices by businesses. However, the Rajapaksa brand of corruption is seen as exceptionally bad even by Colombo business standards. The business community, at least in Colombo, feels it has been cut off from the peace dividend by Rajapaksa policies.
Meanwhile, corruption allegations against Mr Fonseka, by the Rajapaksa faction, are seen as part of the election mud-slinging culture in Sri Lanka and not taken too literally.

Against the odds
Organisers of the Fonseka campaign said the retired general's popularity ratings have increased. However, they refused to disclose numbers.
"When we started out, Fonseka's ratings were very much lower than the President's. But now we are very bullish. He is almost on par with the President, although we don't put out numbers everywhere," said an economist in Mr Fonseka's campaign.
Mr Fonseka himself was quietly confident addressing the large business forum. "I think the progress I have made in 40 days of politics is satisfactory. I am now shoulder to shoulder with my opponent who has 40 years of experience in politics," said Mr Fonseka.
The Rajapaksa regime, in turn, has not cared much for Colombo's sentiments anyway, because wealthy Colombo, the commercial capital, is a traditional UNP vote base. Instead, the Rajapaksa government has used Colombo purely as a source of funding, either by directly demanding money from businesses, or by hitting them with more taxes. So this election, President Rajapaksa is unlikely to get the Colombo business-community vote, although many Colombo business people stood by the determined President Rajapaksa during the war against the LTTE.
Overall, the Fonseka camp expects the traditional UNP vote base of urban and business votes in the country, to go to Mr Fonseka. The Janatha Vimukthi Peramuna (JVP), the Marxist partner of the UNP in the common coalition backing Mr Fonseka, is expected to pull-in the grass root votes, particularly in the South. Despite President Rajapaksa's strength in the South, some areas are already seen as Fonseka friendly, according to some businessmen.
A small part of Sri Lanka's large public sector and parts of the armed forces are also seen as favourable to Mr Fonseka. A share of the Tamil and Muslim community vote is expected to add to this. Going by the signs, whether he wins or not, Mr Fonseka looks set to give President Rajapaksa a run for his money come election day, January 26.