My Beverages Marketing (Pvt) Ltd, part of Pet Packaging Co (Pvt) Ltd which produces MyCola, made a major breakthrough in its beverages manufacture and distribution when the company sent two container loads of MyCola to the Maldives last week. One container load consists of 52,400 bottles.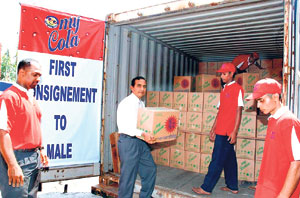 Loading the first consignment to Male
Some years ago, MyCola won a legal battle with one of the multi-national beverages giants when it was getting established in the market. R.S.M.L. Sarmaa, Managing Director, My Beverages Marketing told the Business Times that this is the beginning of major export of MyCola to Maldives and said that the export commitment is 10 container loads of MyCola monthly.\
Pet Packaging originally has been manufacturing, bottling, distributing and exporting drinking water and on its 10th anniversary in 2004 commenced manufacturing beverages under the brand name 'My'. He said that at the start they had a 2% market penetration and projected the same percentage penetration annually. But, he said that the penetration retarded due to the conflict situation in the country and the global recession. He said that as things are different now and with the possibility of penetrating the North and East markets he is confident of achieving much bigger sales.
Mr Sarmaa said that today's trend in the market is a shift from aerated water to fruit drinks and said that they would enter the fruit drinks market very soon. He said that they hoped to achieve a market share of 14% in the beverages market by 2014.