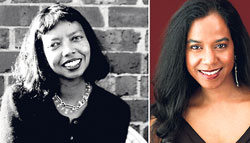 Picture --Michelle de Kretser (Left) and Ru Freeman
Two internationally acclaimed novelists of Sri Lankan origin will be flown to the country of their birth by Emirates later this month, as part of the award-winning airline's support to the Galle Literary Festival which runs from January 28 to February 1.
Australia-based Michelle de Kretser and US-based Ru Freeman will join an eminent group of international writers in the fortress city of Galle for this year's festival. Ms de Kretser was born in Sri Lanka and emigrated to Australia when she was 14. She is the author of The Hamilton Case, the winner of the Tasmania Pacific Prize, the Encore Award (UK) and the Commonwealth Writers Prize (Southeast Asia and Pacific); The Rose Grower (her first novel) and The Lost Dog which was long-listed for the 2008 Man Booker Prize for fiction.
Ms Freeman, whose debut novel A Disobedient Girl has already received high praise, won several awards for her writing when she was still in Sri Lanka, including a Presidential Award for creative writing. Hailing from a family of writers (both her father, Gamini Seneviratne and brother, Malinda Seneviratne, are poets and writers), Ru Freeman now lives in Bala Cynwyd, Philadelphia, with her husband and three young daughters.