Largest education fair in SL aims to make youth globally competitiveThe largest education fair of its kind in Sri Lanka, EDEX 2010-National Higher Education and Careers Expo will be held for the seventh consecutive year from January 22-24, 2010 at BMICH and January 26 and 27 at Queen's Hotel, Kandy.
Organized by the Royal College Union, the mammoth event which is expected to draw over 100000 visitors from all over the island will revolve around empowering Sri Lankan youth to be globally competitive.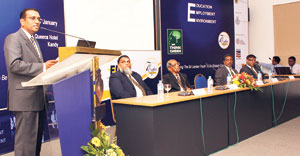 Mr. Kamal Abeysinghe - Chairman EDEX addressing the gathering (Head Table - L to R: Mahadi Mohamed, Secretary EDEX , Nihal Seneviratne, Chairman LPMC, Athula Munasinghe, Treasurer RCU, Kushan De Silva, Treasurer EDEX)
The exhibition will comprise of over 300 stalls representing over 15 countries abroad with the objective of providing students the opportunity to choose the education path that would take them to greater heights and arm them with the right skills to conquer not only Sri Lanka but the rest of the world.
"For the last seven years, our vision has been to empower local youth by exposing them to world class education options which will lead to gainful employment," EDEX Chairman Kamal Abeysinghe explained.
To be held at the turn of a new decade and the dawn of a new year in a unified Sri Lanka, EDEX 2010 will be the ideal platform for students, school leavers, undergraduates and parents to seek guidance from representatives of local and foreign universities and educational institutions in higher education, vocational training and skills development.
"Education and skills development is the practical solution for self development, professional well being and financial stability," Abeysinghe informed, "so this fair would be of great benefit to not only students but parents searching for the right options for their children."
He added that education is the ideal solution to the issue of poverty in the country as through the right education more opportunities are generated across the island. "We are empowering students from across Sri Lanka to choose the right education which suits them best and guarantees their employability. And through generating jobs we can also ensure equitable social development of the country with similar opportunities to all parts of society."
Over 250 foreign universities represented directly or through their agents from countries such as United States of America, United Kingdom, Australia, Singapore, Russia, Japan, Bangladesh, India, China, Nepal, Switzerland, France, New Zealand and Malaysia, will provide information on the courses available, requirements for scholarships awarded by them, 'On site' spot admissions and advice and guidance on student visas and other relevant information. Several scholarships and special offers await the discerning visitors at the Expo.
Following up on the successful 'Green Zone' initiated by EDEX last year, students with a 'green' consciousness and mindset will be provided with a dynamic environment to help decide the course of their future and to promote the sustainable living concept at EDEX 2010's 'Green Zone'.
EDEX has also gone one step further with the launch of their website www.edex.lk which provides an interactive portal of opportunity- the EDEX Careers Portal for students from across the country. Initially launched with the intention of reaching out to rural Sri Lankan youth who often lack the resources to make it to the exhibition, the website has quickly become popular with thousands of students from all walks of life as it enables them to file their CVs which are then accessed by corporate entities participating in EDEX from across the globe.
A novel idea to develop a portal that offers both job opportunities and educational/training courses on the same web platform, EDEX Careers Portal provides a golden opportunity for local and foreign educational institutes and training providers to gain access to wide ranging audience including high school graduates, parents, university graduates to undergraduates and current high school students.
In line with the Government's priority to focus on education to take the nation forward, EDEX is formally endorsed by the Presidential Secretariat, Ministry of Education, Ministry of Labour Relations and Manpower, and Ministry of Vocational and Technical Training. EDEX is also supported by the Strategic Partnership of Ceylon Chamber of Commerce, ICTA, AMCHAM and European Chamber of Commerce.
For more details contact Ranjith 0115 521 497 at the EDEX Secretariat at RCU, Rajakeeya Mawatha Colombo 07 or visit www.edex.lk or email info@edex.lk or fax 0112 683 100