KUCHING (Sarawak, Malaysia) - Four undergraduate students made Sri Lanka proud when they were recently awarded scholarships upon entrance and for scoring top marks in their semester exam at Swinburne University of Technology Sarawak Campus in Malaysia.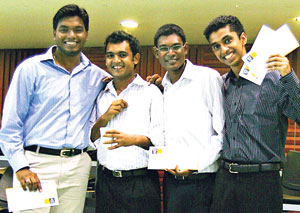 Media Contact: David Teng, Communications and PR Executive, Swinburne University of Technology Sarawak Campus, State Complex, Jalan Simpang Tiga, 93576 Kuching Tel +6082 415 353 / Fax +6082 428 353 Email dteng@swinburne.edu.my
Kajeepan Manoharasivam, Roshane Shavindra De Silva Nanayakkara and Savan Tharana Perera Tusew Liyanaralalage were awarded the university's Merit scholarships for obtaining distinctions and high distinctions in their exams.
Dilan Aravinda Gannilegedera, formerly from Ananda College in Colombo before moving to Swinburne Sarawak, was awarded an Entrance scholarship on the basis of his outstanding secondary school results. "It's great to be awarded the scholarship. When I first came to Swinburne (Sarawak) I was awarded the Entrance scholarship. Since then I've been awarded two Merit scholarships," says Roshane, obviously thrilled.
"It gives me more motivation to study harder and try to get better grades as I would be relieving my parents of the financial strain. I also want to maintain a high GPA and stay at the top level in my batch," says the second year mechanical engineering student.
"It's an honour to win scholarships. Not everyone gets it, (so) it makes you more enthusiastic to win more every semester," says Kajeepan, an electronics and computer systems engineering student. "I believe it's the best way to encourage students to work hard and to appreciate their hard work," adds the former Royal College student.
Set up in 2000 and the only international branch campus of Swinburne University of Technology in Melbourne, Australia, Swinburne Sarawak has been growing rapidly. Today, the campus has a population of about 3,000 students and expects to have 5,000 students in the next three years.
It offers identical courses as its home campus and awards the same Australian testamur. The programmes are in Engineering, Business, Computing, Science and Design, and range from foundation to postgraduate levels.
"Swinburne's degree programmes are practically oriented and this is a very important factor that will play a key role after I graduate and start working. The text books used are modern and up to date. The software for various engineering studies are also the latest available so we've been trained to work with the best available," says Roshane, a former St Thomas College student.
He also finds the lecturers helpful and obliging. "Even when I've a small doubt they take a lot of time to painfully clear my mind. I am very happy with the quality of education at Swinburne." Kajeepan concurs, adding "I believe it is one of the best institutions which offer students practical knowledge and experience."
International students come from more than 40 countries and make up 18 per cent of the total student population. They may choose to live on or off campus. Two fully furnished hostels on the campus grounds provide more than 430 students with all the conveniences of home.
"The hostel is the right choice for a fresh student as you can experience a lot, look at life from the perspective of students from other countries and cultures," says Kajeepan. "There are many students from Pakistan, Bangladesh and India with whom I can have a friendly argument about a cricket match, get together with my friends, watch a football game and cheer on our favourite teams. It is fun to go to university," says Roshane. Last year, the Sarawak campus was expanded at a cost of US32 million, giving students access to more technologically advanced facilities.
"The newly built campus gives it a very studious environment, a professional university life atmosphere. Every single minute on campus is interesting and enjoyable," says Kajeepan. While Kuching is not a huge city, Roshane finds it "balanced as the roads are not packed with traffic all the time and there is no sound of vehicles honking or smoke", adding that "things at the many shopping centres are relatively cheap".
The city is an ideal place for education as it is quiet, and not many distractions for students, says Kajeepan. "If you make good friends and come with an open heart, Kuching is the best place on earth to enjoy."