Often we judge people based on their appearance. At times you may feel that a person dislikes you or is laughing at you, though this person may simply be admiring you. Whatever the truth may be your mind is telling you something and habitually, you believe what your mind tells you. Why? Because it is your own mind that is talking to you.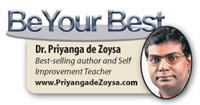 Limitless thoughts
What are you thinking of now? What is in your mind now, what was in your mind a few minutes before? What thoughts occurred in your mind during the previous ten minutes? Researches say about 40,000 to 70,000 different thoughts pass through a person's mind in general. Whatever the figure may be, observing your mind for a few minutes will reveal that an astonishing amount of thoughts cross your mind. Research also reveals that in general a majority of the thoughts that arise are unpleasant and are recurrent. What this means is that we are accustomed to have more unpleasant thoughts and they occur in our minds over and over again.
Conditions to accept
You are unsuspectingly conditioned to accept as true what your mind tells you. You believe that what the mind tells you is absolutely true and you are generally reluctant to discard what your mind says. You accept your mind and follow its advice. There is nothing wrong in this, it is how the majority of minds function. When you realize that your concepts play a part on how you arrive at conclusions you'll realize that thoughts are simply thoughts and conclusions are judgments made by you based on the concepts you believe. Once you realize this, you naturally begin to question your thoughts. This process is self inquiry.
Awakens happiness
Self inquiry is questioning one's thoughts from the heart. It can help awaken oneself which can be performed in many ways. You can ask yourself any question and you may either answer a question or be silent. You may both answer and be silent. Or you may silently observe your ongoing thoughts and question their authenticity. The choice is yours. There is no accurate way that will bring best results. Understand what self inquiry is all about and practise it gently. Fine-tune it as you proceed and follow your heart for guidance.
Four questions
The following questions will assist you in awakening more happiness - for no reason.
1.Is this thought true?
2.Do I know that this thought is absolutely true?
3.How different will I behave if not for this thought?
4.Can something else be true?
Think about a situation in your life that disturbs you. Simply ask the four questions above regarding this situation. Ask a question and listen to your heart for an answer. If you prefer, write your answers and repeat these questions a few times. As you continue, you'll notice that a new realization about the situation unfolds. The discomfort you had will dissolve and your perception to it will change. You'll begin to feel more at ease and happiness will emerge for no reason.
Gets accustomed
When your mind gets accustomed to self inquiry it naturally questions the thoughts that arise. You then begin to realize a truth that lies further than what your mind is accustomed to, and you feel a novel happiness with this realization. You feel happier than before for no reason. It simply occurs and you feel a joyfulness that arises from within.
Boundless blessings
Dr. Priyanga de Zoysa
Author - Teacher - Life coach
www.PriyangadeZoysa.com