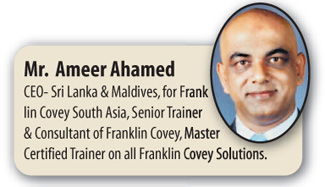 As we discussed in our previous articles on this subject of proactivity we went deeply into the understanding of the CHOICE. These choices will depend on the response we make for the stimulus on a continuous basis. Between this stimulus which is external to us and the response we make is a space, if not, we need to create that space.
In order to create that space one can use the four Unique Human Endowments as mentioned below.
1. Self Awareness
2. Imagination
3. Conscience
4. Independent will
We need to use these fourHuman Endowments to make the right choices. As we saw in last week's article the other end comes for free. In other words the circumstances come for free depending on the choices we make.
Making and keeping commitments
At the very heart of our Circle of Influence is our ability to make and keep commitments and promises. The commitments we make to ourselves and to others, and our integrity to those commitments, is the essence and clearest manifestation of our proactivity.
It is also the essence of our growth. Through our human endowments of self-awareness and conscience, we become conscious of areas of weakness, areas for improvement, areas of talent that could be developed and areas that need to be changed or eliminated from our lives. Then, as we recognize and use our imagination and independent will to act on that awareness - making promises, setting goals, and being true to them - we build the strength of character, the being that makes possible every other positive thing in our lives.
It is here that we find two ways to put ourselves in control of our lives immediately. We can make a promise - and keep it, or we can set a goal - and work to achieve it. As we make and keep commitments, even small commitments, we begin to establish an inner integrity that gives us the awareness of self-control and the courage and strength to accept more of the responsibility for our own lives. By making and keeping promises to ourselves and others, little by little, our honour becomes greater than our moods.
The power to make and keep commitments to ourselves is the essence of developing the basic habits of effectiveness. Knowledge, skill, and desire are all within our control. We can work on any one to improve the balance of the three. As the area of intersection becomes larger, we deeply internalize the principles upon which the habits are based and create the strength of character to move us in a balanced way toward increasing effectiveness in our lives.