What is a project ?
A project is an organized method for reaching specific goals and planned benefits within a target schedule and defined budget. Project management methodology provides organizations with powerful tools that improve its ability to plan, implement, and control its activities. This is the most flexible tool that enables response to threats and opportunities faster and cheaper. Therefore a well structured project management methodology is mandatory for any business that needs to change fast.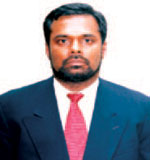 The author Duminda Weeraratne is currently working for Project Management Solutions as a Project Management Consultant.
Industry Classification
The level of project management utilization can differ from organization to organization. Any organization can fall in to one of the following three categories, according to the industry classification by project management utilization. Non- project driven industries; take on projects that support the organizational products and services. They do not have a separate system for managing projects. Hybrid; one or two divisions are project driven, and they gain the benefit of both traditional organization(process driven) and project organization, In project driven industries; the organization exists to support its projects. Project management is used as a strategic tool.
Project Management in Sri Lanka
Majority of organizations in Sri Lanka fall in to non project driven category. The concept is still new to many of us. General social awareness is still low. IT companies, telecom companies, a few Government institutions, construction companies and multinational companies use the methodology as a strategic tool.
We implement so many projects in our day to day lives although we do not recognize them as projects. But they are carried out without systematic planning or using a tested methodology. Even if they are completed successfully, they are sometimes very costly in terms of time, resources and stress created in the project team.
PM Methodology
Success of the project driven orgs depends on how well projects are executed. Any successful large org has good PM methodology to design, build and globally deploy quickly. To achieve maturity and excellence in project management, the organization needs a well structured project management methodology. A good methodology will improve your performance during project execution and allow for better customer relations and customer confidence.
A methodology is a set of guidelines or principles that can be tailored and applied to a specific situation. In a project environment, these guidelines might be a list of things to do. A methodology could include a specific approach, templates, forms, and even checklists used over the project life cycle.
A methodology can be defined as "A collection of methods, procedures, and standards that define a synthesis of engineering and management approaches designed to deliver a product, service, or solution".
Developing a different methodology for each type of project is not effective. Integrate the project management methodology and project management tools into a single process. When there is a singular methodology, customer has a single point of contact for information.
The characteristics of a world-class methodology :
Maximum of six life-cycle phases
Life-cycle phases overlap
End-of-phase gate reviews
Integration with other processes ( TQM, strategic planning)
Continuous improvement
Customer oriented
Companywide acceptance
Use of templates
Critical path scheduling
Simplistic, standard bar chart reporting (standard software)
Minimization of paperwork
The Methodology can help you to ;
Avoid mistakes.
Reduce cost.
Reduce risk.
Meet project schedules.
Identify and correct errors early.
Avoid excessive documentation
Organizational environmental factors can influence the methodology a great deal. Therefore the methodology too should change with the changes in these factors. Develop a methodology that suits your organization. If you purchase a commercially available methodology, make sure that you customize it to your organization. Developing a standard methodology that encompasses the majority of a company's projects and is accepted by the entire organization is a difficult undertaking.
The hardest part might very well be making sure that the methodology supports both the corporate culture and the goals and objectives set forth by management. Methodologies that require changes to a corporate culture may not be well accepted by the organization. Non supportive cultures can destroy even seemingly good project management methodologies.