The Kalugala ela which flows through the Galewela town into the Dewahuwa tank has been widening gradually threatening the properties of residents on its banks and may even inundate the town, sooner or later, residents say. Several residents in the area expressed their views on this matter.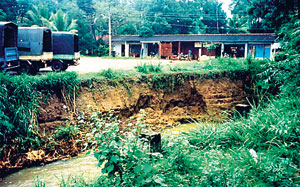 The river bank eroding with land on the edge in danger of being washed away
Upul Jayalath (40) said the river which was only 10 feet in width ten years ago, is today nearly 30 feet wide with some business buildings now only about 20 ft away from the bank of the river. He lamented that if the river continues to widen, soon all buildings near its banks will go under water.
Lands belonging to people near its banks are being washed away already and though the situation has been intimated to the relevant authorities nothing seems to be done to counter the situation, he said.
Ms. D Wanigasinghe (40) had this to say. "During the last five years many of my coconut trees were washed away by the river as water from another ela too has been diverted to this river.
If this is allowed to go on even Crown land and government buildings too would become victims soon. Hundreds of families living along Jayathilleke Mawatha and Samagi Mawatha have already been affected."
Nimal Jayaratne (45) said that though an anicut was built at much cost to arrest the situation but it too got washed away. If this goes on unabated, soon we would lose our properties, he said. It is also said that illicit sand mining from this river is partly responsible for the situation.
Threats issued by those engaged in this business are said to have put off officials from taking counter action. Commenting on the matter, the village council chairman M. P. E. Jayatilleke said that he is in touch with the irrigation authorities on the matter and added they would take necessary action to arrest the situation.