Marking yet another landmark in the history of higher education in our country, APIIT Law School, a purpose built law school with modern facilities, was inaugurated at the third floor of Access Towers, Union Place, Colombo 02 on Wednesday, 16th September 2009.
Ceremonious opening of APIIT Law School by Prof. Rosemary Evans
The ribbon cutting ceremony was performed by Ms. Rosemary Evans, Dean of Law of Staffordshire University Law School in the presence of an august gathering. Invitees numbering close to 200 included representatives of the legal profession, higher education, and the corporate sector.
APIIT-Sri Lanka has an enduring collaborative partnership with Staffordshire University in the UK. APIIT has been offering several Staffordshire University degree programmes in Computing/IT and Business Management in Colombo. The degree programmes offered at APIIT are internal degree programmes and the degree certificates awarded by Staffordshire University are identical to those awarded to internal students studying in the UK. With the launch of the APIIT Law School in partnership with Staffordshire University, APIIT-Sri Lanka has now expanded its operations to include legal education.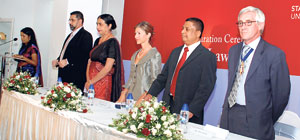 Mr. Gurpardeep Singh, Professor Savitri Goonesekera, Professor Rosemary Evans, Dr. Athula Pitigala-Arachchi CEO of APIIT - Sri Lanka, Mr. Peter Jordan
Welcoming the guests, Dr. Athula Pitigala-Arachchi, CEO of APIIT-Sri Lanka, pointed out the historic significance of the inauguration of the APIIT Law School. "After three decades of conflict in the North and the East, peace has dawned on our country.
Sri Lanka is now poised for rapid economic growth. A vibrant higher education system is more important today than ever before to support our country's development. At APIIT, we can be proud that we have been making a valuable contribution to higher education over the years.
With the opening of the APIIT Law School and our entry into legal education in collaboration with Staffordshire University, we are taking yet another significant step to enhance our contribution to higher education and manpower development."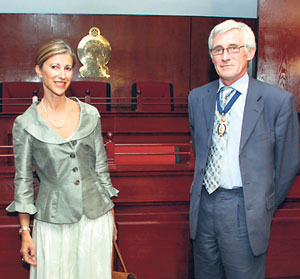 Prof. Rosemary Evans and Mr. Peter Jordan
"Our vision for the law school is to make it one of the best in the region. We are starting with one degree, LLB (Hons), and as we progress it is our intention to introduce more programmes at both undergraduate and Masters levels. We will strive to provide outstanding resources and maintain the highest academic standards. We have already recruited a highly competent and committed team for the APIIT law school. We are also fortunate to have a great team at Staffordshire Law School who understand our aspirations and support our efforts. Together, I have no doubt in my mind that we will achieve our vision and make a substantial contribution to the legal profession in Sri Lanka" elaborated Dr. Pitigala-Arachchi.
Dr. Pitigala-Arachchi also expressed his desire to work closely with the Sri Lanka Law College, Sri Lankan Universities, and the legal profession in the country. He said that the APIIT Law School was privileged to have an Advisory Council of eminent persons from the legal profession and legal education, persons of the calibre of Professor Savitri Goonasekera, Professor Lakshman Marasinghe, Mr. Shibly Aziz and Mr. J.C. Weliamuna. Dr. Pitigala-Arachchi thanked them for agreeing to lend their professional expertise in providing strategic guidance and direction in the running of the law school.
Mr. Gurpardeep Singh, Vice President of the University College of Technology and Innovation and the APIIT Campus in Malaysia reminisced about the beginning of APIIT operations in Colombo. "Ten years ago, APIIT had started its operations at the same floor of Access Towers.

Distinguished guests gathered at the occasion
With growth and expansion, APIIT moved into its own premises. Now that the APIIT building at Union Place is almost full with close to 1000 students, it had been necessary to come back to the roots, so to speak, to set up the law school." He wondered if there was some divine intervention at play.
Mr Peter Jordan of Staffordshire Law School explained his role as the International Programme Advisor (IPA) of APIIT Law School. His responsibility is to ensure quality and standards of the delivery of Law programmes and the comparability of student experience between APIIT in Colombo and Staffordshire University in the UK. The Staffordshire University undertakes a broad range of Quality Assurance Processes including external monitoring of adequacy of resources, quality of delivery and student assessment.
Professor Savitri Goonesekera congratulated APIIT-Sri Lanka on taking the initiative to set up a modern Law School in the country to provide greater opportunities to students aspiring to a legal career. She also spoke on the importance of this initiative for the development of legal education and advancement of the legal profession in Sri Lanka. Considering the fact that the APIIT Law School will be conducting British degree programmes, she highlighted the importance of integrating the training programmes to Sri Lankan society and culture.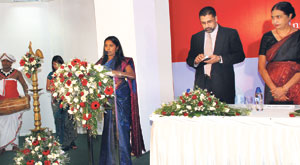 Ms. Prashanthi Rajaratnam, Corporate Services Manager, Mr. Gurpardeep Singh Vice President of the APIIT- UCTI Professor Savitri Goonesekera
Ms Rosemary Evans, speaking on behalf of Staffordshire University, said that the University was pleased to work with APIIT-Sri Lanka, a reputable higher education institution committed to providing high quality education. She enlightened the gathering on the remarkable achievements gained by Staffordshire Law School as one of the top five law schools in the UK for professional training. She commended APIIT-Sri Lanka's initiative to set up the APIIT Law School with modern facilities comprising on a par with the University standards in the UK.
APIIT Law School is the first fully fledged private Law School established in Sri Lanka for the purpose of educating and training the Sri Lankan youth for the legal profession. APIIT Law School is a purpose-built Law School with state-of-the-art learning infrastructure such as a modern law library, a moot court, specially designed lecture theatres, small-group tutorial rooms, IT laboratories and other support facilities. It is spacious and is modelled on leading British Law Schools. Already, there has been an overwhelming demand from students in Sri Lanka and countries in the region such as Maldives, to enrol in the inaugural intake. The first intake of students to commence their studies leading to internal LLB (Hons) degree programme was also present at the inauguration ceremony to witness the grand opening of the APIIT Law School.
The APIIT - Sri Lanka's initiative in setting up a modern law school to offer internal British degrees in Law with a view to expanding opportunities for legal education in the country is timely. While contributing to the advancement of the legal profession, the value of this initiative in the development of human resources for a wide variety of sectors should not be underestimated.