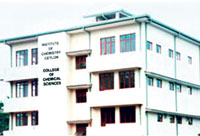 Adamantane House
Applications have been called for the very popular and highly recognized Graduateship Programme in Chemistry conducted by the College of Chemical Sciences of the Institute of Chemistry Ceylon. This professional programme which is at an academic level equivalent to a University Honours Degree in Chemistry has been conducted without any break for the last 32 years, and has so far produced 572 Graduate Chemists from 26 batches who have passed out.
Professor J. N. O. Fernando, Honorary Dean of the College states in a media release that anyone interested in the programme should contact Adamantane House, 341/22, Kotte Road, Welikada, Rajagiriya. (Phone 2861231/2861653) or download application form and other details from website: www.ichemc.com.
The next orientation session will be held on September 23 at 4 pm to provide more information.