The National Olympic Committee elections is tipped to be a hot one with the incumbent secretary Air Commodore H.U. Silva and President of the SLTA Maxwell de Silva vying to take the run for the next four years as the NOC secretary.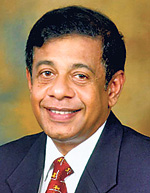 Hemasiri Fernando
Once again Hemasiri Fernando will take another term uncontested.
Speaking to the Sunday Times Secretary H.U. Silva who took over the position after former NOC secretary Prema Pinnawela's 17-year tenure said "I am very confident of retaining my position as twelve of the affiliated associations have given written pledges while another five have given the nod verbally".
Meanwhile Maxwell de Silva commented that he personally had nothing against H.U. Silva, but it is high time that there was change in the pivotal post of secretary of the National Olympic Committee.
He also added "Give me one turn. I will not hang on to that position for any longer and that is my pledge to our voting affiliations."

Air Commodore H.U. Silva who has been serving as secretary of the NOC for the past twelve years is one of the vice president's of the National Archery Association. Staking his claim further H.U. Silva said "When I took over this position we only had a mere Rs.60,000/- in our kitty, but today we own a building worth more than 165 million rupees.
NOC President Hemasiri Fernando speaking on the pending elections said – "We have made all arrangements to conduct the elections in an orderly manner with Drs. Maiya Gunasekera and V. Thuriarajah presiding. Moreover at the time of the counting of votes we will appoint two observers each from Silva and de Silva camps."