TOULON, France, July 24, 2009 (AFP) - England World Cup winner Johnny Wilkinson played his first match in 10 months on Friday as he helped his new French club Toulon to a 9-3 friendly victory over Brive.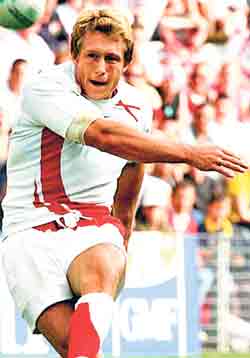 Wilkinson, who had broken his knee-cap playing for his previous side Newcastle, kicked two penalties and played the first half of the a match watched by around 10,000 fans who chanted "Wilko! Wilko!"

"I am very happy to be playing rugby again," said the fly-half. "Physically I feel fine even if I was missing a little of my rhythm.

"Before the match I didn't know what my feelings would be, but once I got into the action I knew what to do."
Wilkinson, 30, showed some good touches around the pitch, but admitted that full match fitness still needs to be worked upon.

The 66-time capped player said he made some errors and "needed to play to progress".

Wilkinson joined the ambitious Top 14 side from Newcastle on a two-year deal in May.

Toulon play their first competitive match of the 2009/2010 season against Stade Francais on August 14.