Sports
---
Mobitel Rotherham Circuit Meet at Katukurunda on August 2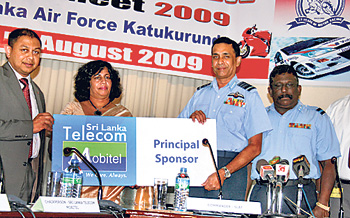 Chief Marshal Roshan Gunatileke being handed over the Sponsorship Cheque

The Mobitel Rotherham Circuit Meet 2009 is scheduled to be held at the Sri Lanka Air Force Circuit in Katukurunda on August 2 2009.

At a press conference held last Thursday at the SLAF headquarters The Commander (SLAF) Air Chief Marshal Roshan Gunatileke said that this is the 3rd time this meet is to take place with the help of the Sri Lanka Association of Race Drivers And Riders (SLARDAR) under the sponsorship of Mobitel, and will consist of 10 events for motorcycles and 14 events for cars. The meet is expected to start at 9 a.m. and go on till around 2 p.m. and is sure to be a great day for motor racing enthusiasts if we are to go by the success of the event in the two previous years since the best drivers and riders is the country will be taking part in this years meet.

The president of SLARDAR and the Chairman of SLAF Motor Races along with Suren Amarasekara (CEO) Mobitel were present at the press briefing.
|
E-mail
|
views[

1

]